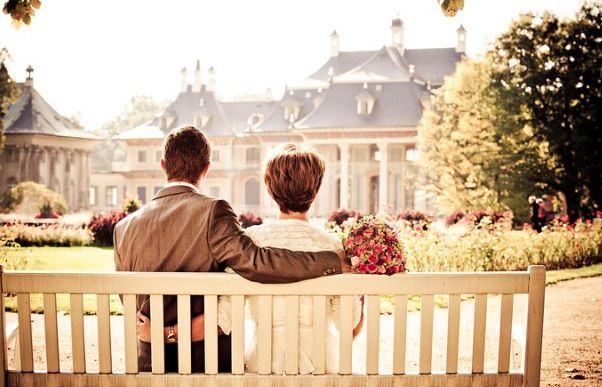 Letter to Wife on Wedding Day – Marriage is enjoyed when both partners truly love and welcomes each other in their lives. The foundation of marriage should be so strong that nothing can shake it. As a husband, you may have so many things in mind to tell your wife on your wedding day, go ahead to let her know all those things. Letter to wife on Wedding day should contain words of promises, assurance, love and expectations. Your wife will equally be happy to receive such a letter from you on your wedding day. No matter what you will like to communicate to her through this letter, let it be in a romantic and love filled way.
How to write a letter to wife on Wedding Day
1. There is something that got you attracted to your soon to be better half, let her know those things. Tell her how much you love and cherish all the things about her and how you will make sure that your love for her do not change. Just promise her of your undying love.
2. She is leaving her home to come and stay with you forever, go ahead to let her know that it is a decision that she will never regret. Promise to take care of her and her needs. Let her know how making her happy will be the order of your day. Give her the hope and assurance that her heart is in the safest place that it can be.
3. Now is the time to tell her your expectations of her, knowing fully well that a happy home is achieved when both partners truly understands each other. Let her know what you expect her to do in your union so that you will feel the best way that you want to feel. How you want your home to be and ways that you think that both of you can achieve that. Don't heap so much expectations on her, let her know that it will be a combined effort so as not to get her scared.
4. Do you have any special plans for her and your unborn kids? You can equally let her know of such. Conclude by letting her know that you will be the best husband for her.
What you will see here is letter to wife on Wedding day examples. You can equally add your own words depending on how you feel. Be assured that it covers most words that you have in your heart.
Romantic Letter to my Wife on Our Wedding Day
You will forever be my choice
My Angel,
If there is nothing else that I'm sure about, it is not the fact that you will be the only woman that I will love forever. I can clearly remember that day that you walked past me. Despite the fact that I was in a hurry, I stood still looking at you until I can't continue to watch you from afar again, then, I decided to walk up to you. The glimpse of your sparkling face made me to realize that there is something special about you. After that day, I went home and told myself that truly you are the one that I need for the rest of my life.
On this day of our wedding, I want to let you know that you will forever remain special to me. My love for you will continue to remain evergreen. Thanks so much for accepting me to be a part of you. I will do all that it will take to make you the happiest woman in the universe. Our love journey will have a beginning but definitely no ending. May your love for me never fade and may we continue to be the best for each other till eternity.
My Heart is filled with so much joy on this day
My Queen,
I want to appreciate you today for making me the happiest man on earth by accepting me to be a part of your life. My love for you will have no limit. I have already envisaged how happy our home will be because of what I'm seeing in you. I will walk with you at all times, I will make you feel the best way that you want to feel. Looking at your pretty face alone has quenched my thirst. I will make my heart a home for you.
I have chosen you today as my missing rib and the one to complete my joy. My love for you will continue to grow and glow. There is no doubt that we are a perfect match for each other. Please, welcome me with your whole heart in your life. Promise to be that woman whom I will always look up to at all times. I will make our home a paradise for you and our unborn kids. May the love that we found in each other last for a lifetime.
Love Letter to My Wife on Our Wedding Day
My Love for You can Shake a Rock
Honey,
My love for you is immeasurable. I'm in love with everything about you. Your love have eaten deep every bit of me. Today is one of the happiest day of my life realizing that we about to seal the bond of love existing between us. When I say "I do" to you, I'm saying "I do" to everything about you. Your weaknesses, strength and flaws I will never judge you with, but instead, make you the best version of yourself that you can ever be.
I will always provide a shoulder for you to lean on. You have painted my whole heart with a picture of your love and it will never be erased by anything. I strongly believe that our union will be a union worthy of emulation. Happiness and joy will be the order of our day. Do not be afraid of anything because our heart has been permanently glued to each other. My prayer is that you will be that virtuous woman for me and our kids. I love you so much my missing rib.
The Love I See is You
My Sweetheart,
Even in the darkest moments, your love brightens my way. I have known peace and happiness since you entered into my life. I'm irresistibly in love with you. Thanks so much for loving me more than I can ever imagine. Thanks for helping me become a better. The day that I met you will forever remain unforgettable in my world. You are my dream come true. I will love you come rain, come shine.
Sealing of our love today will bring to us more joy and happiness. Our love for each other will continue to wax stronger. I know you will forever remain that woman whose love will gladden my heart at all times. I believe that what I found in you is true love, therefore, may our love for each other remain true at all times.
Open Letter to my Wife on Our Wedding Day
You are the answer to my prayer
My one in a million,
It all started like a joke, now it is a reality that our love is here to stay. I immediately realized that we have something in common when we can't go a day without hearing from each other. Our wedding today will mark the beginning of a great positive turning point in our life. I will not only make you my wife but also the Queen of my Kingdom. You are mine forever and all that I have and will ever have belongs to you.
I hope you love me as I love you. My proudest moment in life was the moment you accepted my proposal. I will always make sure that you will not regret accepting me in your life as your husband. May you continue to possess all the outstanding qualities that got me attracted to you. My heart belongs to you alone and together we will build a union that will always stand the taste of time. I love you so much. You are the best thing that has ever happened to me.
I'm Blessed to Have you as my wife
My wifey,
It is said that "he who finds a wife finds a good thing", this is clearly my portion on this day. You have already done so many good works in my life which always makes me look forward to spending eternity with you. I know that we were destined to be with each other, may our love for each other never wax cold. The love of God will continue to abide with us in this union.
It is my prayer that we will continue to walk in the right ways at all times so as to obtain all the blessings that will come from our union. You are the light that I see even in the darkest night and I strongly believe that nothing can change that. I'm highly blessed to have you in my life as my wife.
Make sure that you nurture the love existing in your union. Be careful and don't make promises that you cannot fulfill. Work together with your wife towards achieving a happy home. Letter to my wife on our wedding day are filled with words that will stick to her memory for a lifetime.
Also Read; Best Wedding Vows For Him or Her That Make You Cry
Love Letter to my Wife that will make her cry
Heart Touching Letters to my Wife During Hard Times