The duty of every Christian parent is to train their children in a Godly way. Proper parenting starts when a child is still young because children starts learning from infancy. Your children is your greatest asset, therefore have it in mind that the way you bring them up will directly affect you. Whatever training you inculcate in your children when the are young is what they will grow up with till their old age. Proverbs 22:6 "Train up a child in the way he should go: and when he is old, he will not depart from it." If you sow good seeds in them, you will reap good seeds, but if you sow bad seeds in them, you will surely have a share of it. Don't think that they are too young to learn, lead them to the Lord when they are still young.
Children are precious gift from God to us. Psalm 127:3 "Sons are heritage from the Lord, children a reward from him." Training up our children in the right way should be our ultimate goal because they have been entrusted into our hands and we would render account of how we trained them to God on the last day. When we do it rightly, God will surely reward us. Genesis 18:19 "For I have chosen him, so that he will direct his children and his household after him to keep the way of the Lord by doing right and just so that tthe Lord will bring about for Abraham what he has promised him."
Having said all these, we need to then ask ourselves; How do I train my child in a Godly way? Here are some steps to guide you;
1. Lead by example

"You are what you want your children to be." Everything you do in the presence of your children counts, never think that they may not understand or know what you are doing because children are great observers and imitators. If you are a parent that lies in the presence of your children, know that you have automatically instilled it in them. Therefore, you need to live a Christian life because it is the greatest gift that you can give to your children. You are the light that is leading your children, do not lead them astray or misdirect them.Mathew 5:16 "In the same way, let your light shine before men, that they may see your good deeds and praise your father in heaven."
2. Inculcate Discipline in Your Children
Correct your child when necessary. One of the greatest mistake that parents often make is not correcting their children at the right time. Don't delay to tell your child that what he or she did was wrong, if the child deserves to be flogged, flog him or her. Proverbs 23:13-14 "Do not withhold discipline from a child; if you punish him with the rod, he will not die. Punish him with the rod and save his soul from death." Don't leave your children uncontrolled because you will regret it later in life. Don't leave your children to wander like a sheep without a Shepherd. Give them rules followed by the punishment for its violation. Proverbs 19:18 "Discipline your son, for in that there is hope; do not be a willing part to his death."
  3. Show and Lead them to the Way of the Lord
It is your duty to lead your children to God. Bring them up in the way of the Lord and you will never regret it. Pray for your children and also pray with your children. Lamentations 2:9; "Arise, cry out in the night, as the watches of the night begin; pour out your heart like water in the presence of the Lord. Lift up you hands to him for the lives of your children." Read the Bible with them and also teach them the words and commandments of the Lord. There are also interesting Bible stories that they can learn from, make them familiar with such stories because children loves stories. Take them to Church regularly, introduce them to the service of God and make them participate in those they can. There are various groups for children in church, allow them to take part in such groups. Whatever path you show them at their young age, that they shall follow.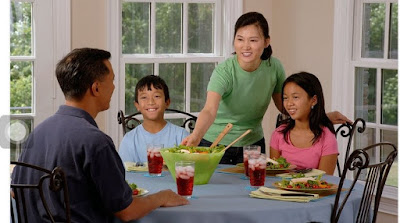 4. Love Them Unconditionally and without Discrimination
Show equal love to each of your child. Love them just the way you love yourself. Befriend your children but don't over pamper them. Be reachable and also be approachable. Colossians 3:21 "Fathers, do not embitter your children or they will become discouraged." Provide your children's needs and also take good care of them. Create and share quality moments with them, your job should not hinder you from doing so. Try and meet their physical, spiritual and emotional needs
5. Consider their Ideas and Suggestions 
Pay great attention to your children's suggestions and ideas. Allow them to be part of the decision making at home. When you are accepting their decisions, give them reasons why you are accepting it, when you are rejecting it, also give them reasons. Help them build their self-esteem, don't ignore their feelings. Talk to them in a gentle manner.  Proverbs 29:17 " Discipline your son, and he will give you peace; he will bring delight to your soul." When they want to tell you about what happened outside the home, do not be too busy to listen as failure to do so often brings regrets.
6. Praise them when they Perform Well
Children likes compliments, when they do the things that impressed you, appreciate them as this will motivate them to perform better next time, when they do not perform well, encourage them to try harder next time. Also give them gifts and other forms of rewards for performing well.
7. Avoid Unnecessary Comparison
Every child is special, every child is unique. Help your child to know his or her self-worth. Avoid using negative or inappropriate words when speaking to them as this will demoralise them. Don't compare or underrate them with others.
Training your child in a Godly way will bring you happiness and peace of mind. When you are trying to do so, seek the face of God in prayer and he will guide and direct you. Train your children properly and enjoy the great rewards that follows.
Also See;  Great Responsibilities of The Husband and Father According to the Bible
Benefits of Living a Life that Pleases God