Actress Omoni Oboli and her husband, Nnamdi Oboli, are celebrating their 21st wedding anniversary. The couple shared adorable photos to mark this special day in their life, and indeed, they still look like newlyweds. Actress Omoni Oboli and her husband are blessed with three children. In a special post which was shared by her husband on his social media page to mark their wedding anniversary, he made it known that their Union is built on true love and that love keeps on waxing stronger as the day goes by, he acknowledged the fact that God's grace has continue to lead them on towards treading on the right path. He also appreciated his wife for being great throughout these years.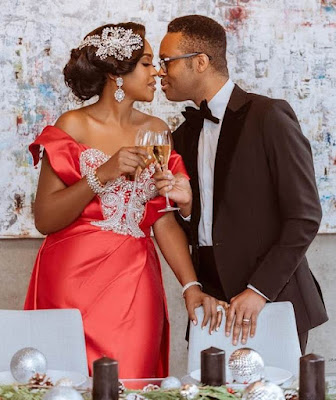 Read his post;
"21 years later
Still going strong!!!
We met
It wasn't any of the usual meetings between two people who planned to spend the rest of their lives together, but so grateful to God that in that one meeting a Union was established.
We fell
We are still falling in love, basking in the beauty of our decision that in spite of what may come our way, every single moment will be cherished.
We love
The love grew not as a result of Disney-styles romance that is superficial and untouchable but a very real love that is not embellished by fantasy but enjoying each moment as it comes.
We stood
We are still standing, not in the basis of how well we've performed rightly towards each other at all times, but the acknowledgment of God's grace and willingness on our part to match to love's beating drums.
We worship
The God who has done this, who has blessed this, who has stepped in to complete the threefold cord that makes this unbreakable cord real in worthy of worship!
We pray
In thankfulness we are overwhelmed that the decision to not choose our own way but God's in Christ has been the wind that has sailed our marital ship.
Happy 21st wedding Anniversary to my lovely wife who has been great for these years and the gift that God keeps on giving me and the family we're so blessed to have made together🙏"
Happy Wedding Anniversary to them!!!