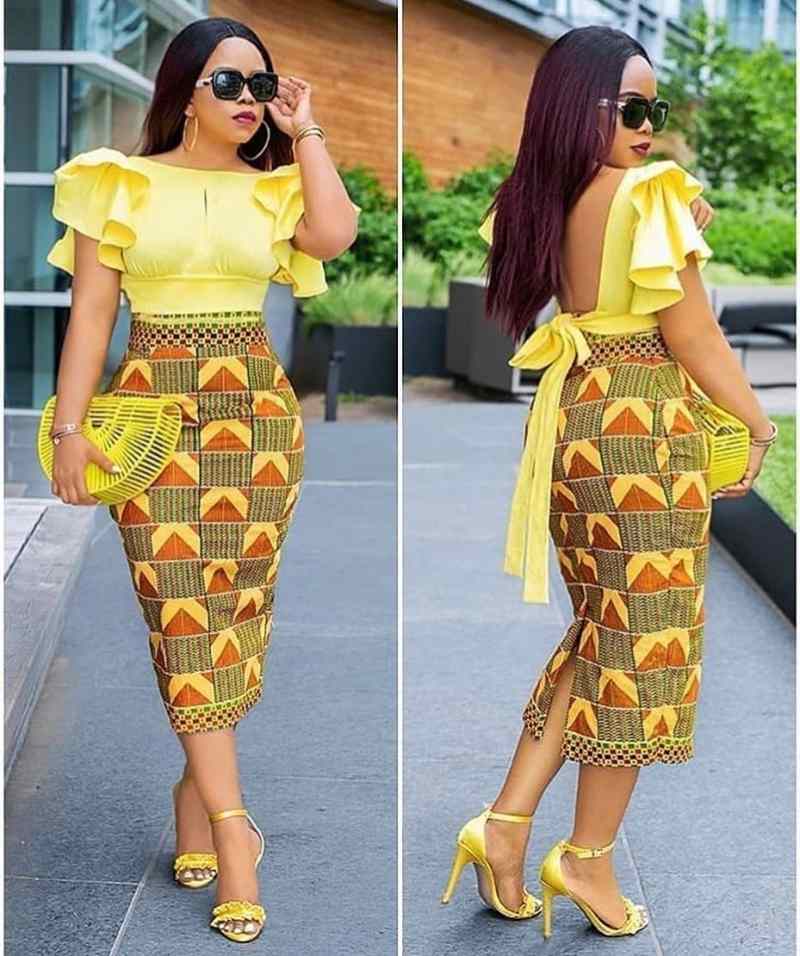 @ankarastylesbyv/Instagram

Are you thinking of going to that wedding but still confused on the type of style to give your Ankara fabric? Don't worry we have the latest Ankara styles for wedding for you.

To be that classy wedding guest, you need to pay attention to what you wear in order to earn your full respect. Why I prefer wearing Ankara styles to wedding is because it makes me look unique most especially when I  chooses a good style for it. It doesn't matter whether you are going to traditional or white wedding, Ankara style is a great wear for both.
Once you get your preferred Ankara fabric, which can either be Kente fabric, Wax Print, Gold print etc, choose a style that will rhyme with it, you can decide to sew Long Ankara gown, short Ankara gown, Three quarter Ankara gown, Long or short skirt and blouse Ankara gown or even Ankara trousers or blouse.

Here are the Latest Ankara Styles For Wedding;

1. Long Ankara Tub Gown with Side Split

This long gown is all shades of beauty and will be perfect for any type of wedding. The feathered sleeve gave the gown a fantastic look, and the design of the Ankara fabric is something that I can't overlook.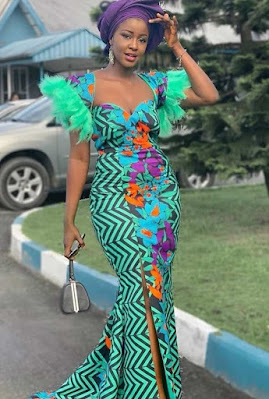 @owambeglamour/Instagram

2. Straight Cut Gown with Side Attached Veil

Once in a while, try to look different and unique. Find the right colour combination for your Ankara fabric, it may not necessarily be an Ankara material but any other fabric that will give you your desired style. The side attached veil gave this gown a great look.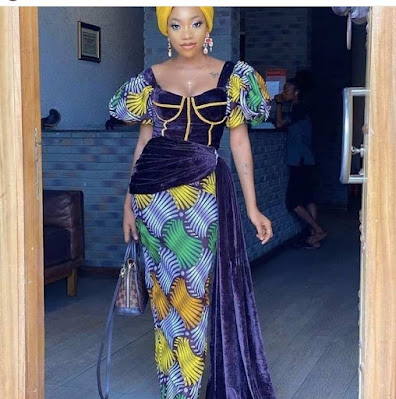 @dress_code_fem/Instagram
3. Off shoulder Long Flared Ankara Skirt and Blouse
The first thing that caught my attention in this style is the design of this Ankara fabric. Don't go to that wedding and leave unnoticed. The eight pieces skirt and blouse looks beautiful and gorgeous.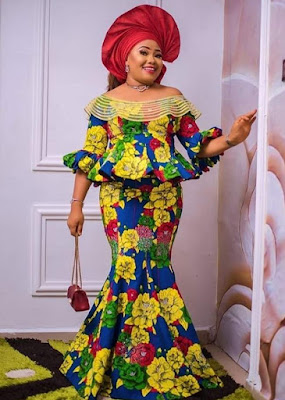 @flo_ankara/Instagram
4. Turtle Neck Long Gown with Layered Sleeves
This style is suitable for all occasions. It is classy and also stunning. The layered sleeves and print designs at the collar gave this Ankara gown a unique look.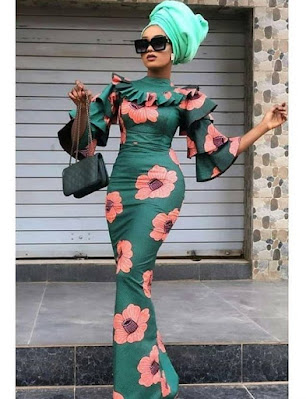 @zee_madakee/Instagram

5. Off Shoulder Long Sleeve Gown 

The colour combination of this gown is cool. The satin added to it and its design made it look more beautiful. The choice of the Ankara fabric is also superb.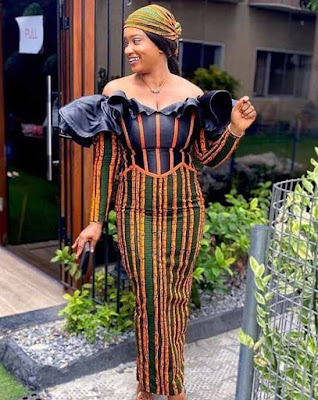 @nee.empire/Instagram

6. Short Ankara Flare Gown With Brim Hat

Tune up your gown style by putting on the matching accessories. This will make you to stand out and also look more beautiful.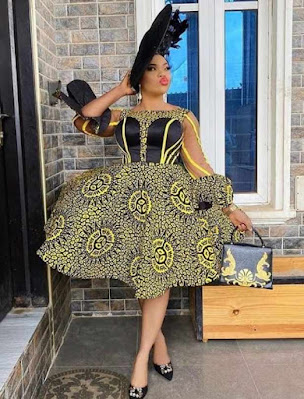 @nee.empire/Instagram

7. Off Shoulder Ankara Straight Gown With Side Attached Petals

Designers always try their best to create unique styles everyday, all you need to do is to simply calm down and select the matching one for you. This long gown is all shades of beauty.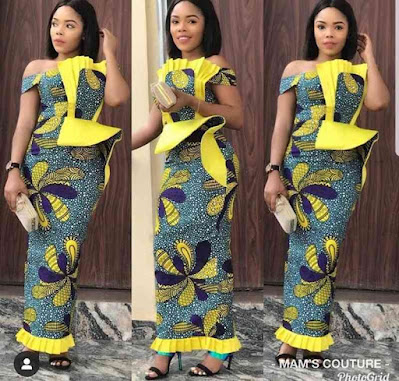 @itse_fabrics

8. V-neck Maxi Gown With Attached Layers

You can never go wrong when you try mix and match Ankara style. Just make sure that you choose the right colour and design combination and enjoy the look.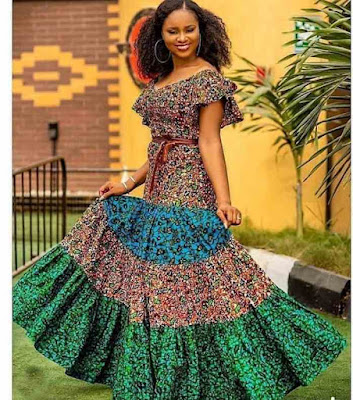 @klothyafrikana/Instagram

9. Simple Skirt and Blouse Style with Balloon Sleeve

You can have a simple style and also look stunning in it. Just give it a design at any of your choice areas. The Balloon sleeve and its design gave this style a nice look.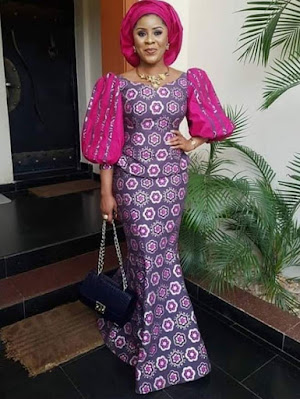 @ankaraexclusivefashion/Instagram

10. Multi Layers Printed Ankara Short Gown

This gown is stylish and also beautiful. You can not only wear this to wedding but for other occasions and even casual outing. The belt clinched to the waist gave this short gown a special look.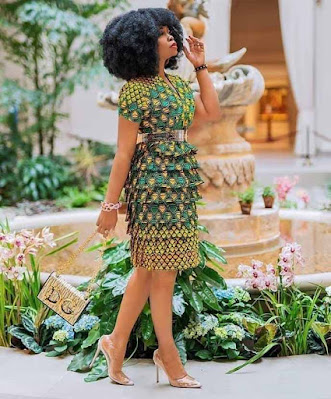 @xzenda/Instagram

12. Plain and Patterned Ankara Long Gown

Plain and pattern Ankara fabric when rightly combined gives you a matured look. The lace combination on the upper part of this gown, made the gown more beautiful and attractive.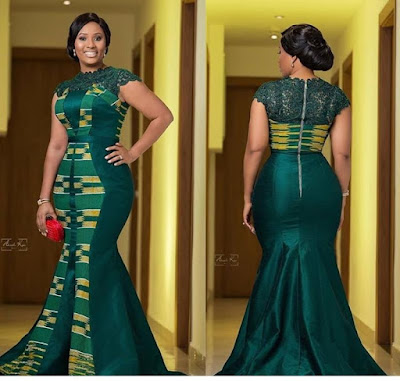 @inspiredafricafashion/Instagram

13. Short skirt and Blouse with Peplum Blouse and a Brim Hat

It doesn't take much to look elegant, just the correct combination will get you there. This Ankara short skirt and blouse is well designed which made it to look classy. The brim hat also gave it a unique look. The tiny belt attached to the blouse is beautiful.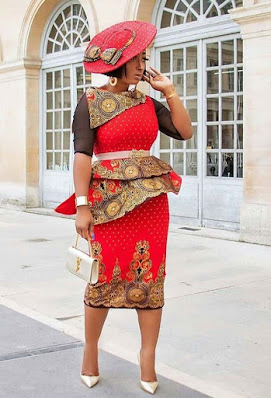 @cuteluks18/Instagram

14. Off Shoulder Ankara Long Gown With Layers

Off shoulder is trending these days, no wonder ladies and women are trying to incorporate them in all their styles. The design of this gown is cool and we love it!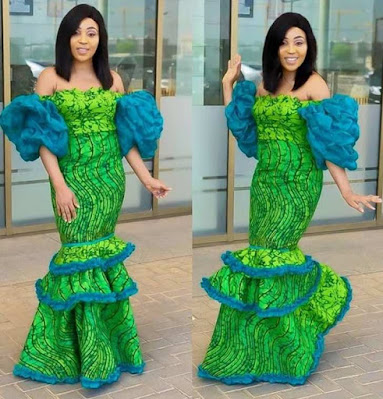 @ankarastyles_1

15. Stylish Ankara Long Gown

When you add so many designs to your Ankara style, it makes you look unique. This gown style will make you stand out from the crowd.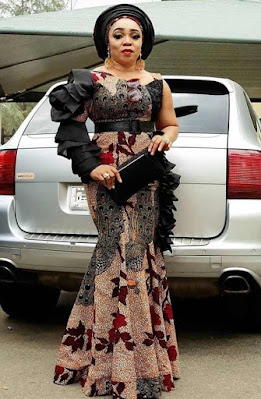 @ankarastyles_1

16. V-necked  Three Quarter Gown With Side Split

Three quarter gowns makes you appear smart. When you are choosing this style, remember to step up with a high heeled shoe to give you a sharp look.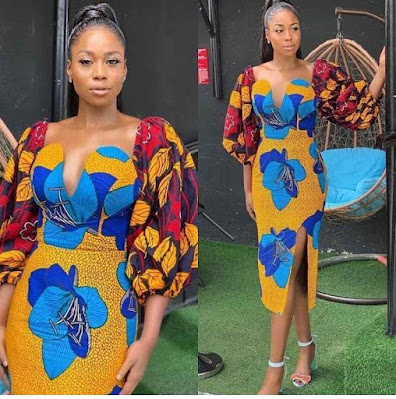 @lilyafe/Instagram

17. Beautiful Ankara long Gown

Choose your own style enjoy the look. This style is classy, gorgeous and beautiful.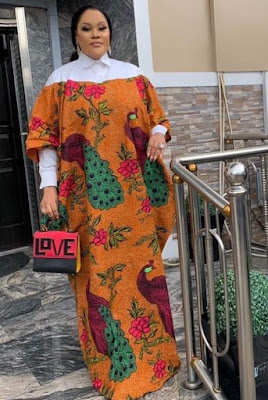 @mumiimaye/Instagram

18. Off Shoulder Long Gown With Side Attached Flip Layers

Have your Ankara gown well decorated and enjoy the look. Flip layers when properly attached gives your style a sophisticated look. The upper design of this Ankara gown also looks stunning.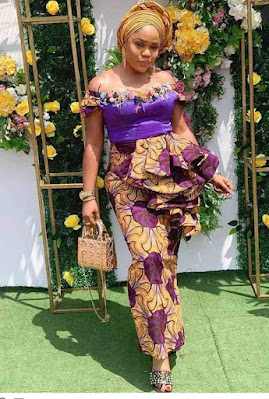 @lizzybee24clotheir

19. V-neck three quarter flare gown

You can choose a double design for the neck of your gown. Here, you have in addition to the v-neck also a crossed strapped neck. The satin combination attached to this gown made it appear flashy.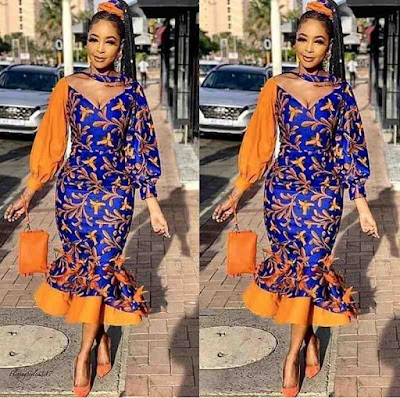 @damkarafashion/Instagram

20. Lace skirt and blouse mixed with Ankara

This is another dimension. You can choose to beautify your lace skirt and blouse style with Ankara fabric. Choose the colour of the Ankara material that will complement with your lace design. You can choose to add it in the upper part, lower part or both.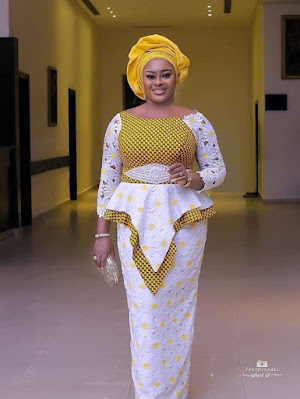 @ankara_remmies/Instagram

21. Net Infused Ankara Long Gown with Centre Split

When you are choosing a style, also consider the Ankara fabric that you have, this fabric looks gorgeous on this style.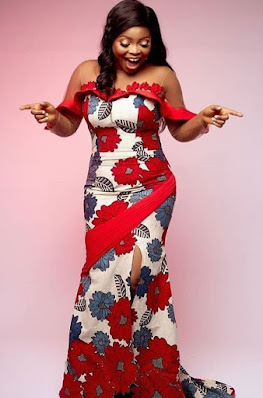 @olayodejuliana

22. Plain and Patterned Ankara Long Gown with Cropped Neck

This gown is well designed and also with a beautiful  combination. Step up to that wedding with this style and get all the, attention you need.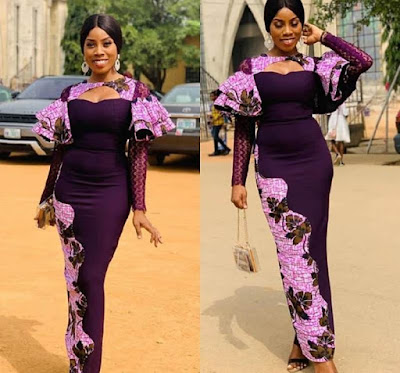 @itua_stitches/Instagram

23. Double Strapped Sleeve Long Gown with Layers

Layered gowns looks gorgeous and expensive. Choose the right combination of Ankara fabric to enjoy this style. Suitable  for all occasions.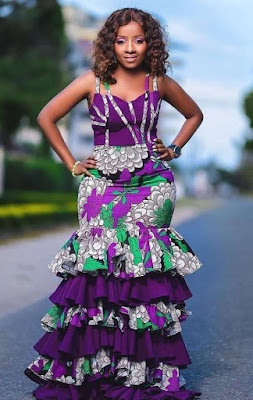 @ankarastylesinspiration/Instagram

24. Peplum Ankara Long Skirt and Blouse

Peplum blouses looks great on Ankara skirts. The off shoulder blouse with straps and collar is simply beautiful.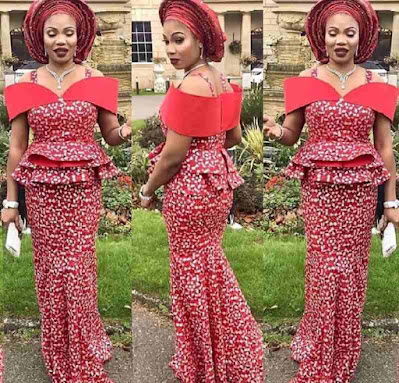 @place4fabrics

25.  Short Gown with Tub Sleeve

So simple and stunning. You can rock this style to any occasion. The white fabric used for the sleeve gave this short Ankara gown a special look.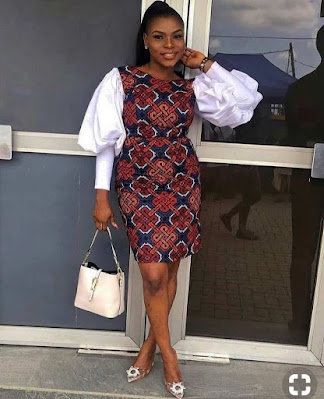 @remastyle_/Instagram

26.  Maxi Ankara Long Flare Gown

What caught my attention in this style is the flowered fabric. The style is also beautiful. Slay effortlessly to that wedding with this unique style.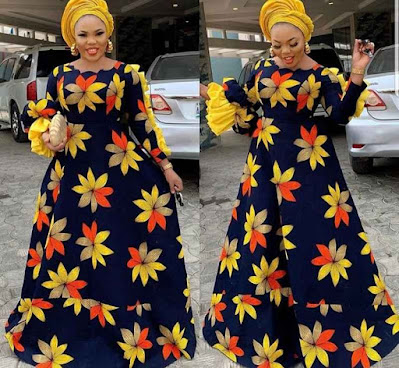 @fabrics_n_trend/Instagram

27.  Off shoulder long gown with one sleeve

This gown is for the gorgeous ladies and women. It will give you that fitting that you desire. But before choosing this style, get enough yards of Ankara fabric and look for a good designer.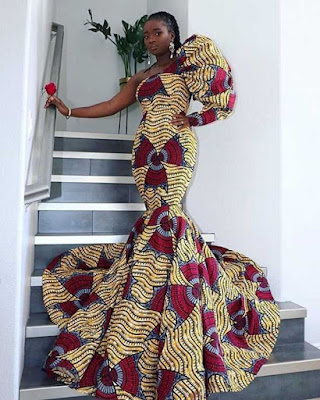 @thenativestylist/Instagram

28. Three quarter Ankara Gown with Side Attached Veil

Side attached veils gives your gown a royal look. Choose the colour that will complement with your design. This gown is beautiful and suitable for wedding ceremony.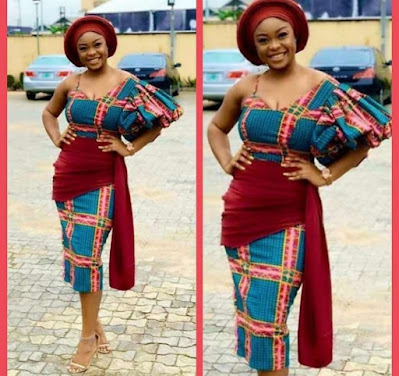 @ankaragrid/Instagram
29. Turtle necked Gown with side split

Try to look like that hot chic with this style. Combine it with right accessories and enjoy the look.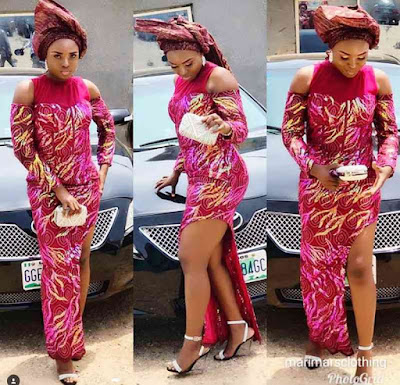 @mz_terhmmy/Instagram

30. Long V- neck Gown with Tub Sleeve

So cool and gorgeous. This Ankara long Gown style will reveal your shapes and also your curves.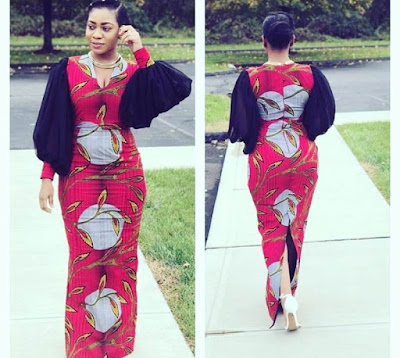 @place4fabrics/Instagram


31. Ankara Top and Trousers with Layered sleeves

You can also decide to wear Ankara trousers and blouse for that wedding. Choose a style that will suit you and enjoy the classy look.


@stylediary_couture

How do you see our collections of latest Ankara styles for wedding? Keep visiting, we promise to keep you updated.

Also See; Latest Ankara Styles For Ladies and Women
Latest Lace Blouse Styles For Wrapper
Latest Ankara Skirt and Blouse Styles