Jaaruma Hauwa Mohammed, popularly known as Jaaruma or Jaaruma empire, who is an intimacy therapist has promised to pay any boutique to send Tacha clothes worth 1 million naira, and therefore pleads on those who have access to Ebuka and Organizers of the show to see if they can help her to send the clothes.

Since the beginning of BBNaija 2019 (Pepper dem) show, Jaaruma has continuously shown her unalloyed support for Tacha that fans and supporters have started referring her as "Tacha's godmother".

According to Jaaruma in a post which she made on her Instagram handle " Tacha is not a Rich kid from a rich home! She is just a young girl trying to make it in life! I'm always telling you guys this. She has no one! Only God Almighty!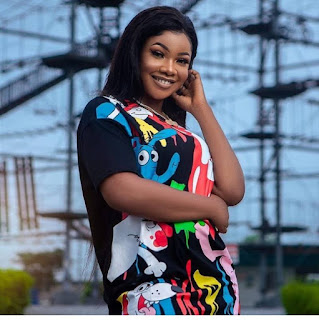 Recall that in one of her diary session, Tacha asked Biggie if they can be given more clothes because she has finished wearing the ones that she came with.

Earlier in BBNaija show, most especially last year show, which was sponsored by payporte, housemates were constantly supplied with clothes, but this year which its major sponsor is bet9ja, the clothes that they are receiving are not that much, anyway, things might change.

Housemates who had that mentality that they will be given enough clothes, and because of it didn't carry enough clothes, are mostly affected.

Jaaruma reacted following eviction party in which Tacha was seen wearing a tight cloth that didn't allow her to dance freely.
See Jaaruma's post;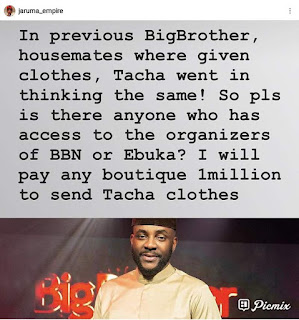 Fans and supporters of Tacha, also promised to help if there is any available means to do that.