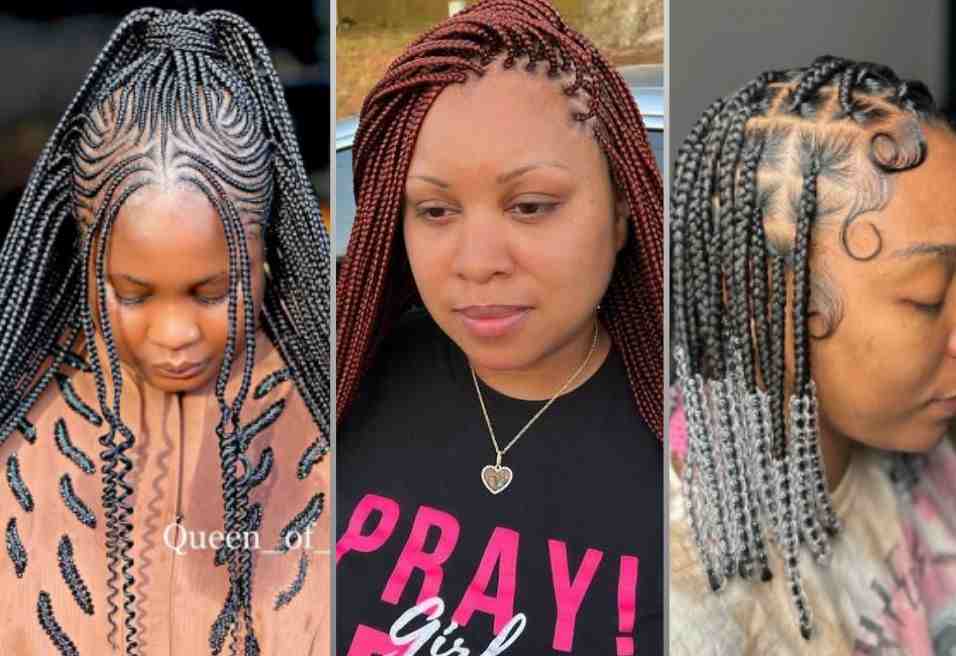 Simple Hairstyles for Ladies in Nigeria – When you talk about West African countries that their ladies love beautiful hairstyles, Nigeria ladies must be in the list. It is worthy to know that Braided Hairstyles for Ladies trends more in this country. They have gone to the extent of creating their own styles of braids. To help in making your choice, you will find adorable ladies hairstyle photos here. One of the things that will influence the type of hairstyle you will choose is your hair length, color, shape of your face, although, at times you can bypass this with the right hair extension and by having a good hairstylist.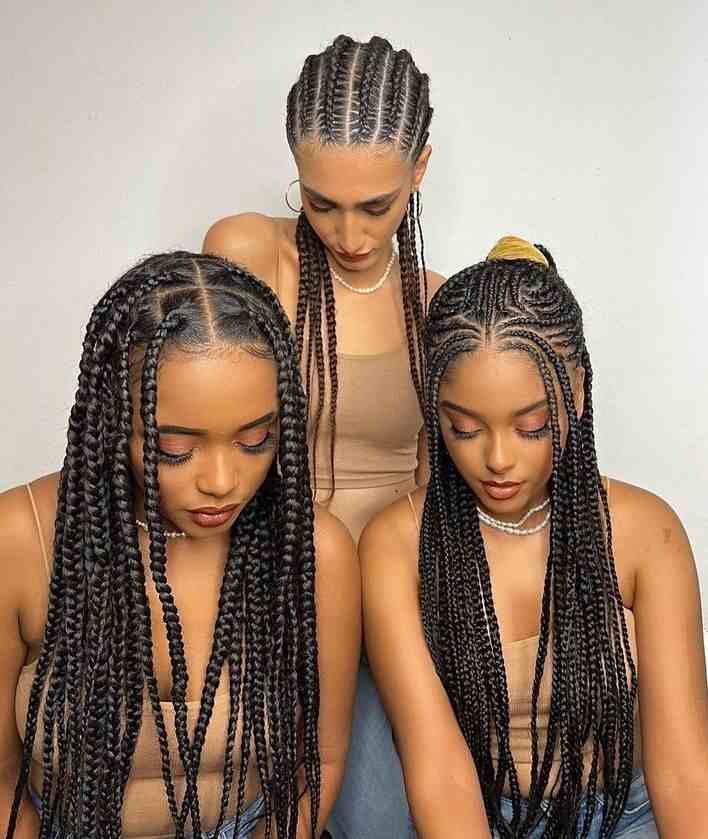 Nigerian hair style pictures features a collection of different Braid Styles which are indigenous to the ladies in this part of the world. The various braids have different lengths which can be long, medium or short. They are also made with different shades of extensions like black, blonde, brown, burgundy, wine and other beautiful shades. The partings on these hairstyles can either be straight, curved, zigzag or any other stylish partings.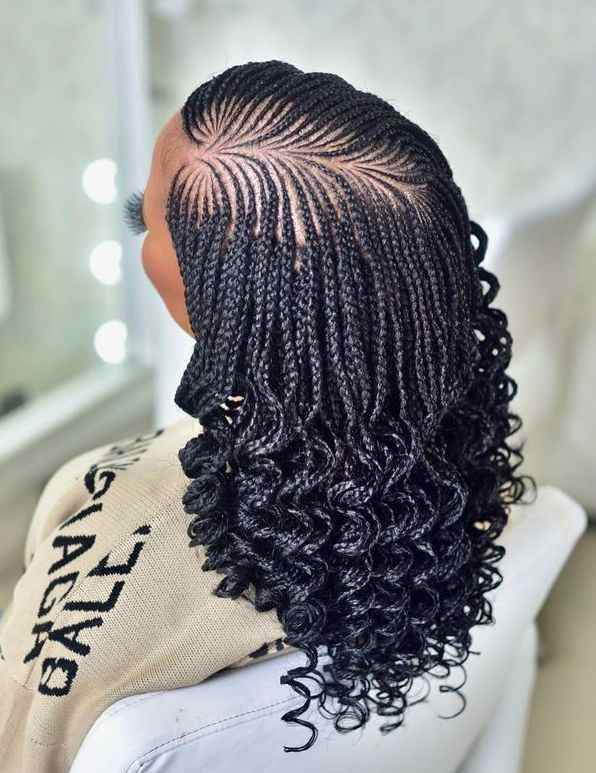 Do you want to add extra beauty to your braids? Then, you can go ahead and put beads, hair pins, and other fashionable hair decorators to your braids. You can style it as a free flowing, ponytail, buns, wrapped crowns, or any other style of your choice. Nigerian Braided Hairstyles for Ladies are enormous. Here, we give you pictures of their latest braid styles for ladies.
Simple Hairstyles for Ladies in Nigeria
1. Stitch in Braids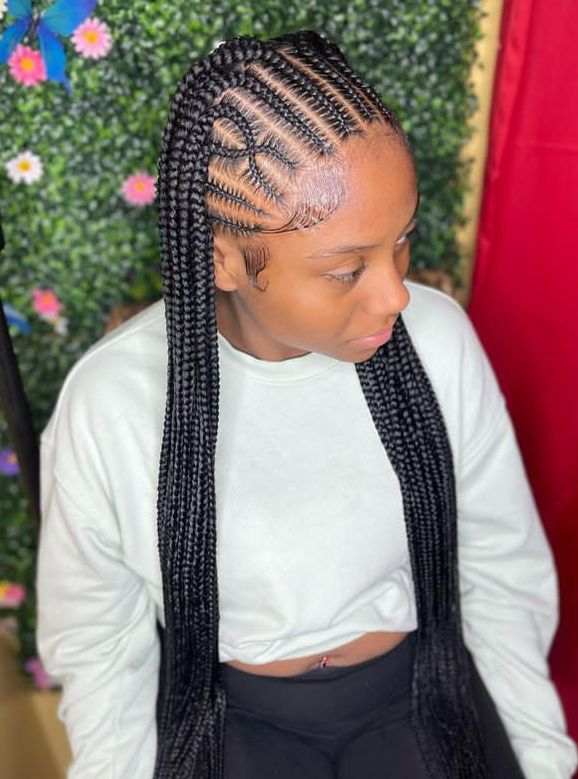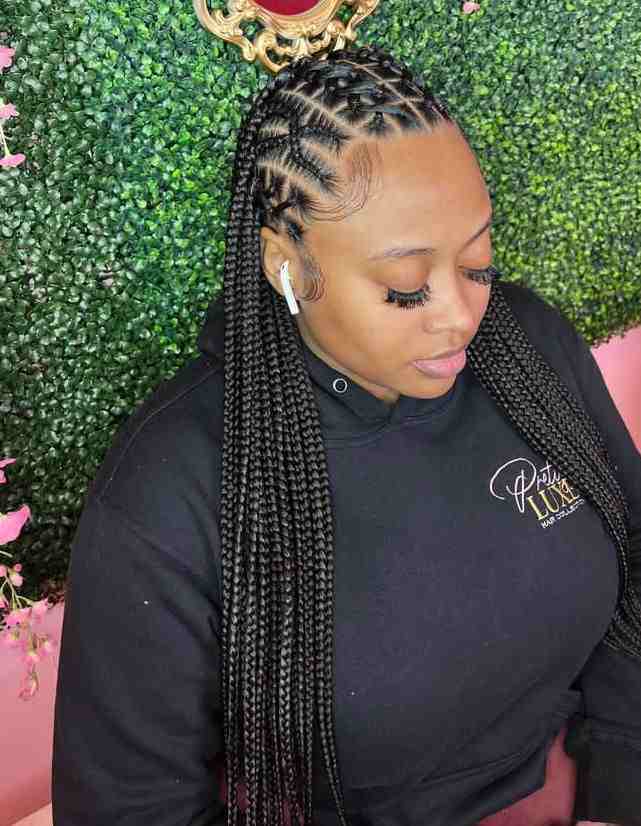 This is among the trending braid styles among Nigerian ladies. It features cornrows that are stylishly stitched together. The stitching can take the form of a triangle or any other shape.
2. Goddess Braids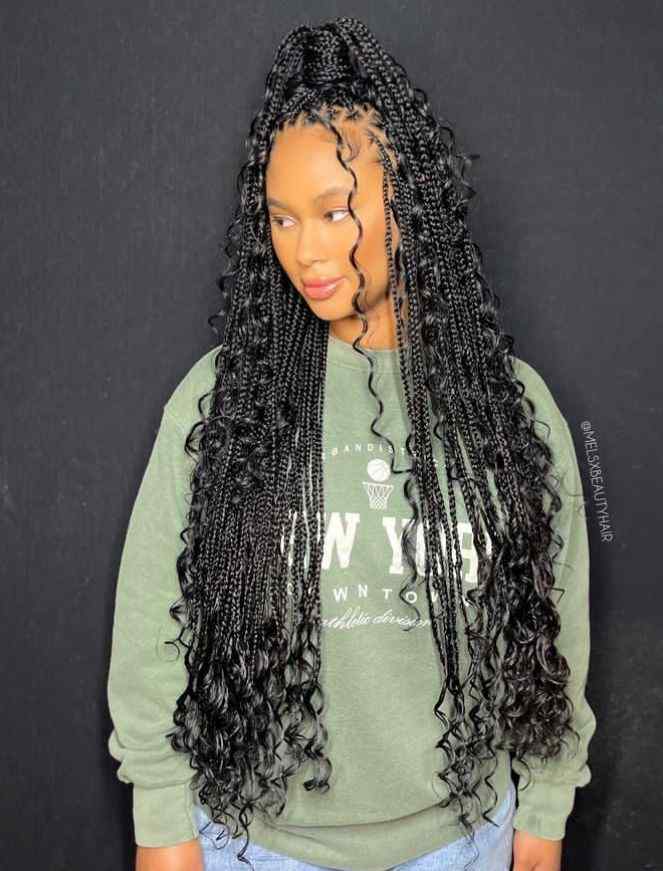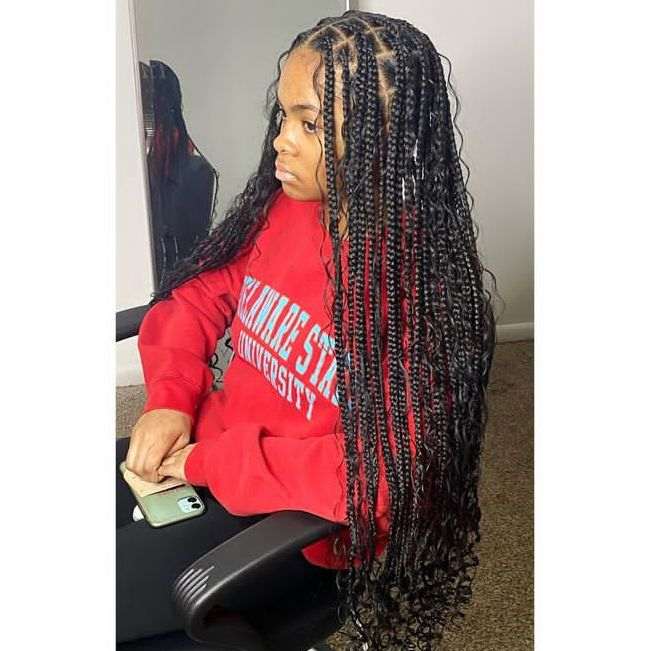 Do you want a fuller and yet beautiful braid style? Goddess braids should be on your list. This hairstyle is made with small Knotless Braids with some braids having curls instead of being braided.
3. Ghana Braids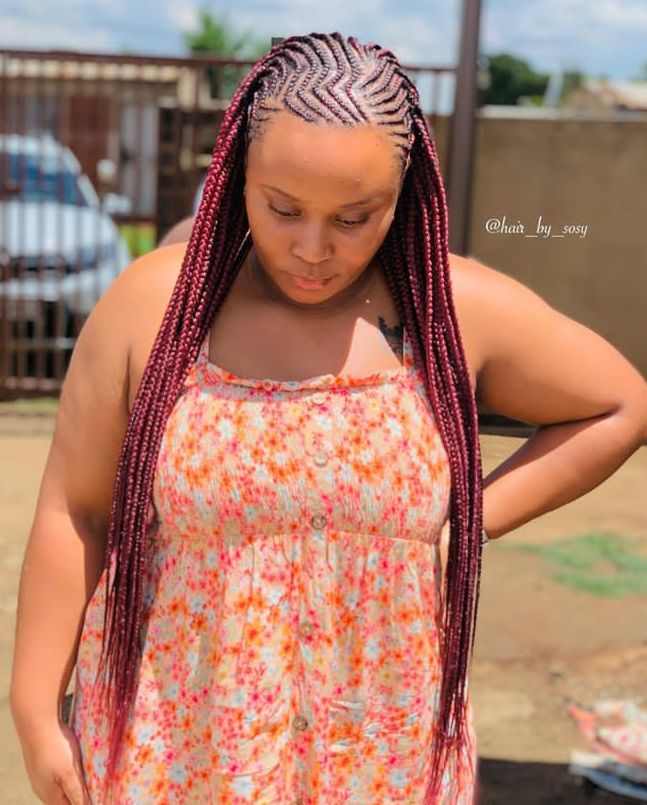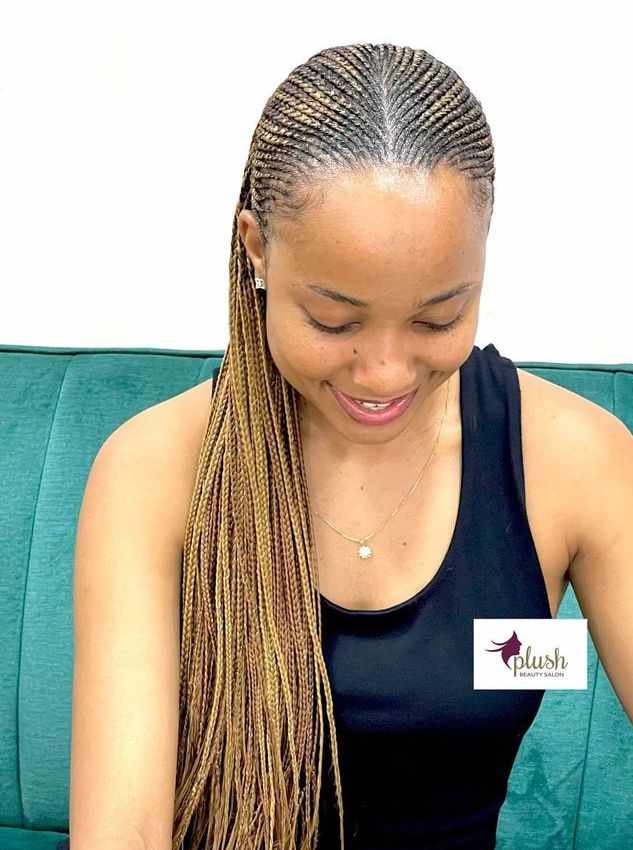 When you think about the most popular braid styles in Nigeria, Ghana Braids must be in the list. Though it originated from a neighboring county, Nigerian ladies do not joke with this hairstyle. It features cornrows carefully laid close to each other.
4. Jumbo Knotless Braids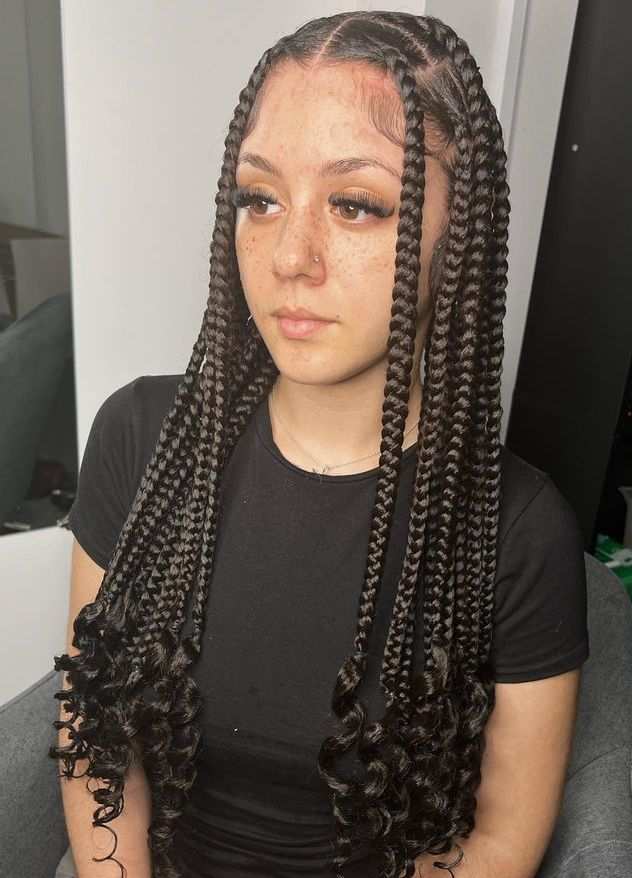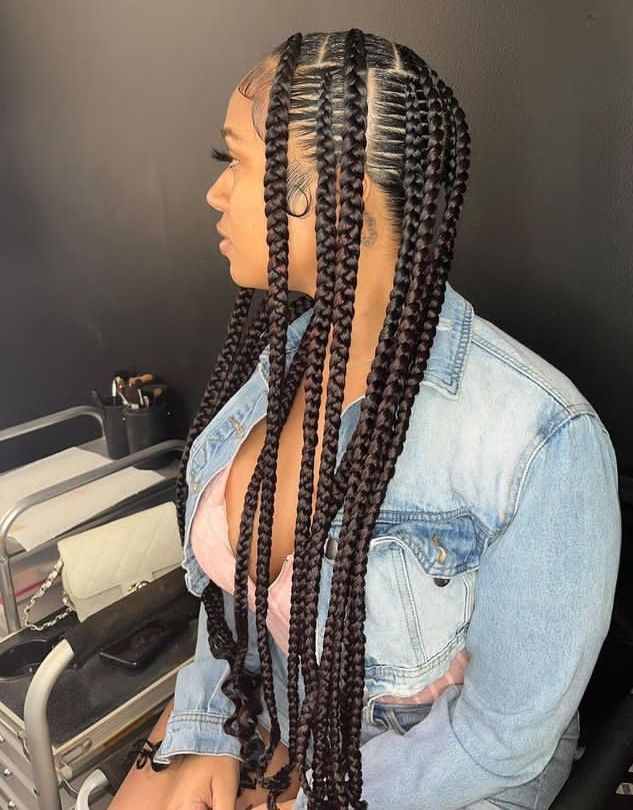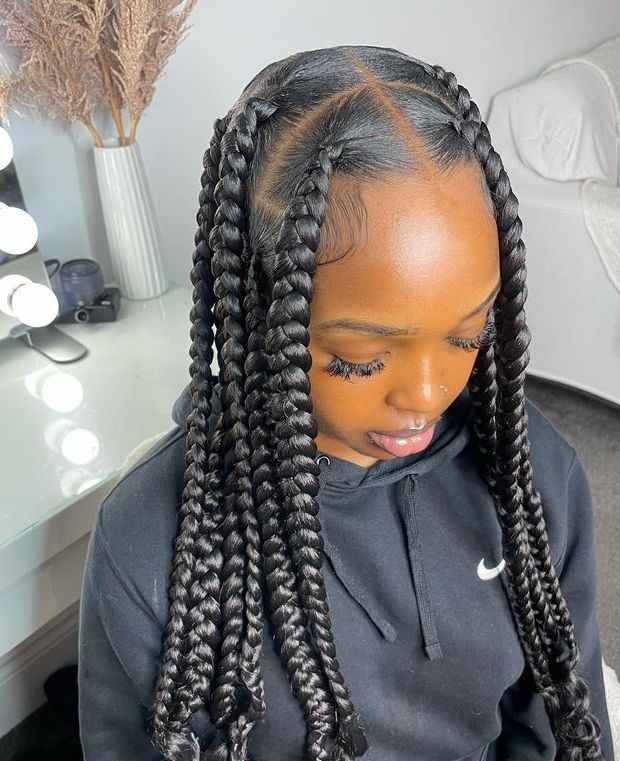 Jumbo Knotless Braids are big braids. Knotless Braids lacks knots on their base like other box braids that do have. Jumbo braids are time saving and really looks stunning. Note also that Knotless Braids looks great on well relaxed hair.
5. Half up half down Braids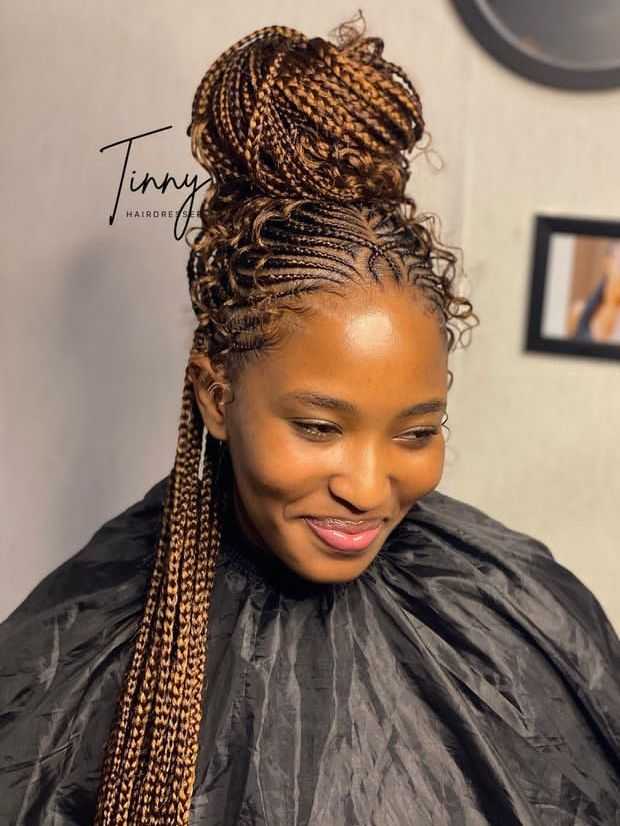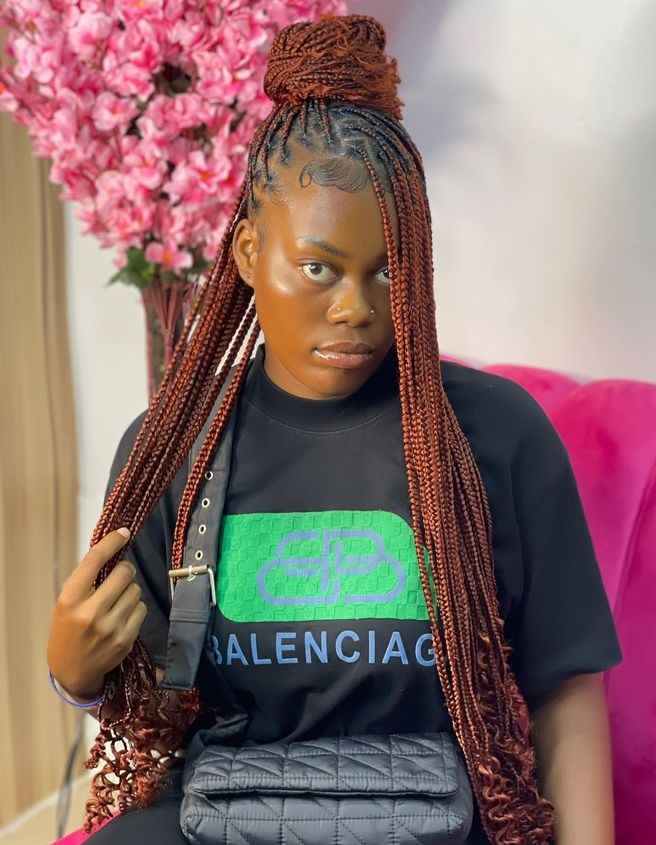 Getting that Princess look is possible with half up half down Braid style. After making your box or half braid and half cornrow hairstyle, divide the braids into two portions, style the front as a bun and leave the back as free flowing.
6. Small Box Braids Hairstyles for Nigerian Ladies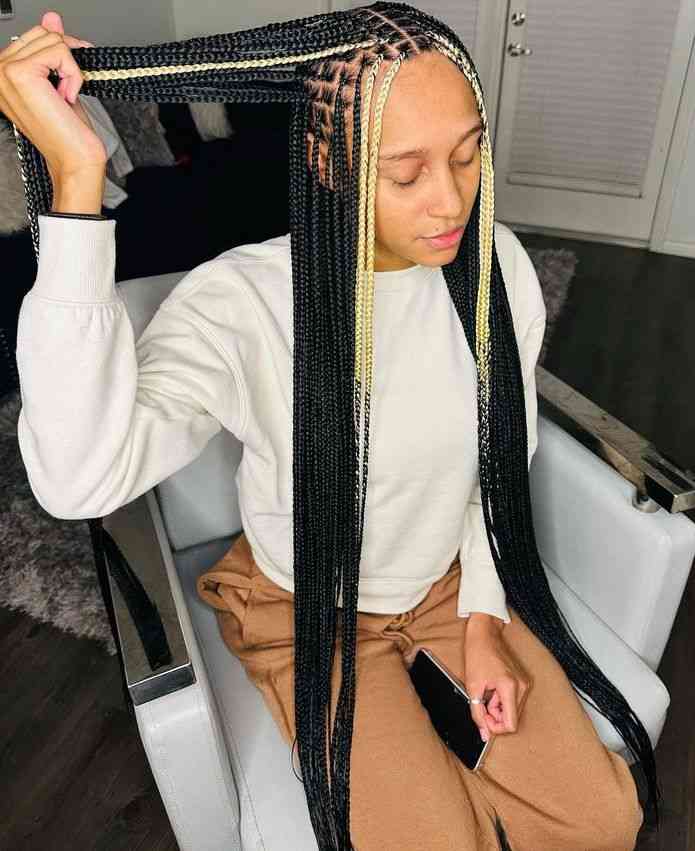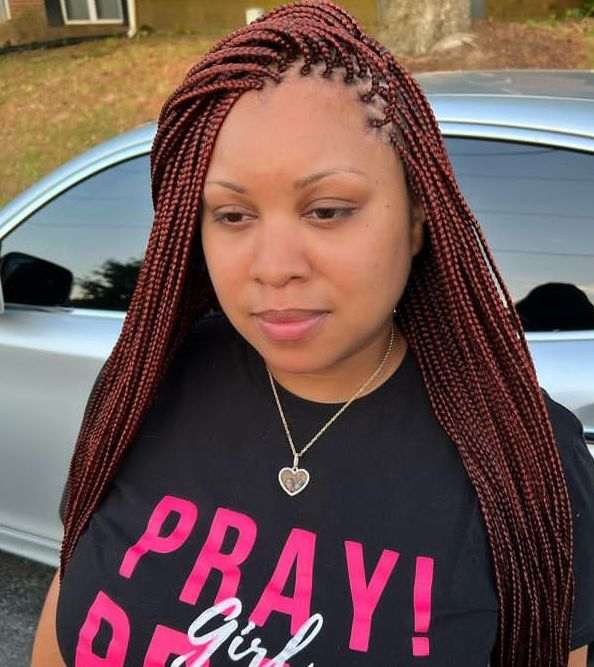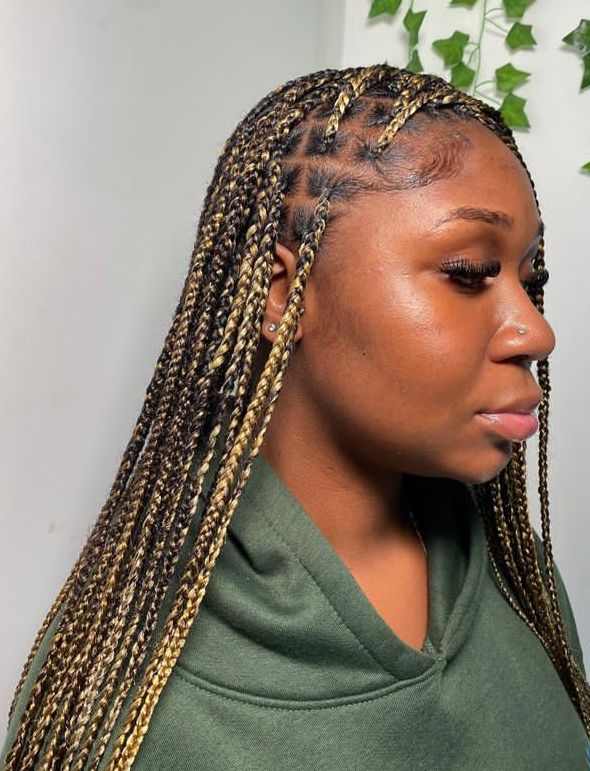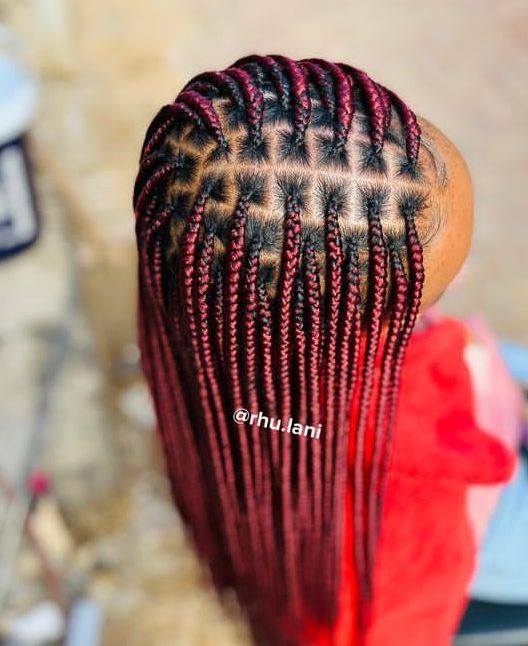 One of the things that I admire about box braids is that it lasts longer than most braids. Box Braids also a protective hairstyle. It does not expose much of the hair. To get more fuller braids, go for smaller box braids style.
7. Tribal braids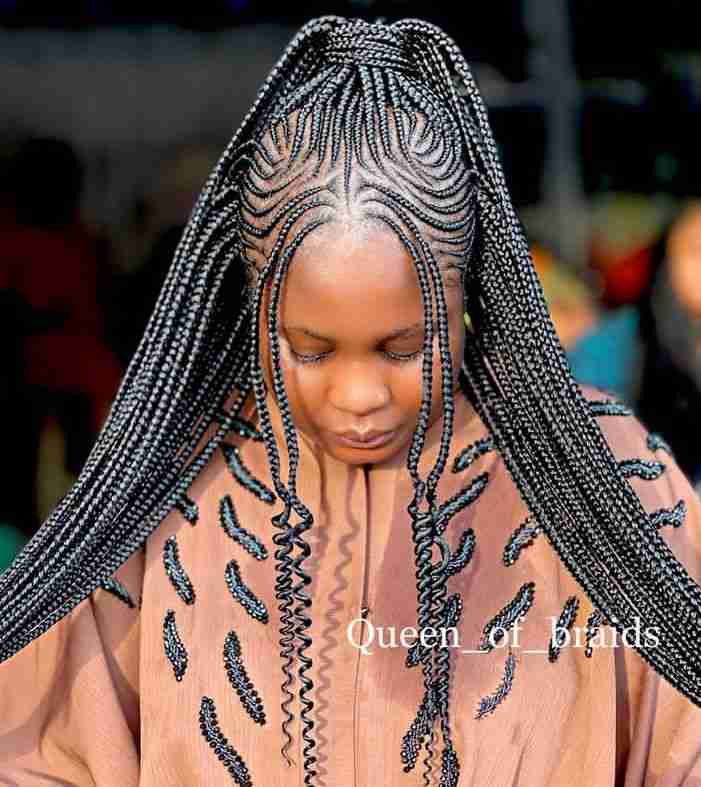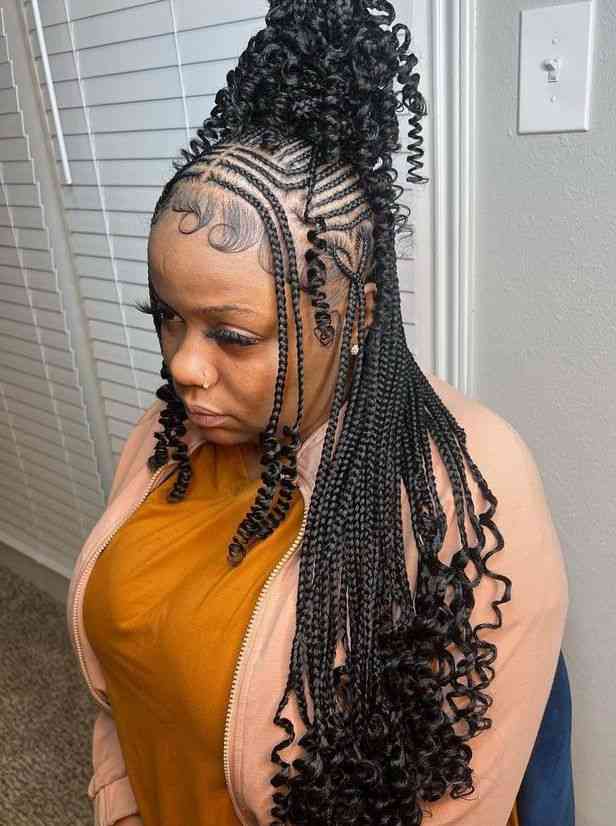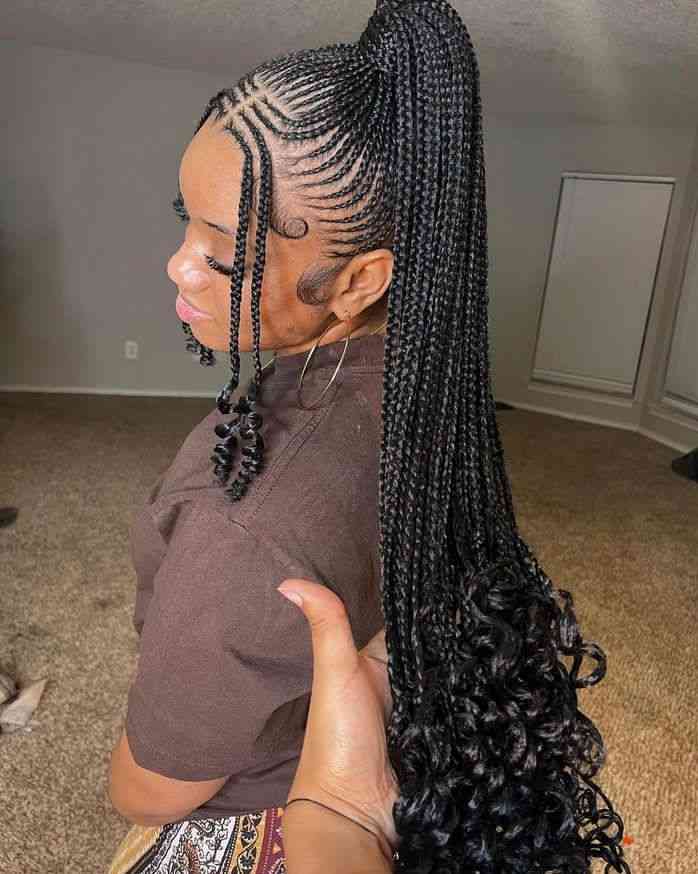 Tribal braids looks stunning. This type of braid style is very popular in most West African countries. It is also popular among black women that loves braids in various parts of the world.
8. Short Bob Braided Hairstyles for Nigerian Ladies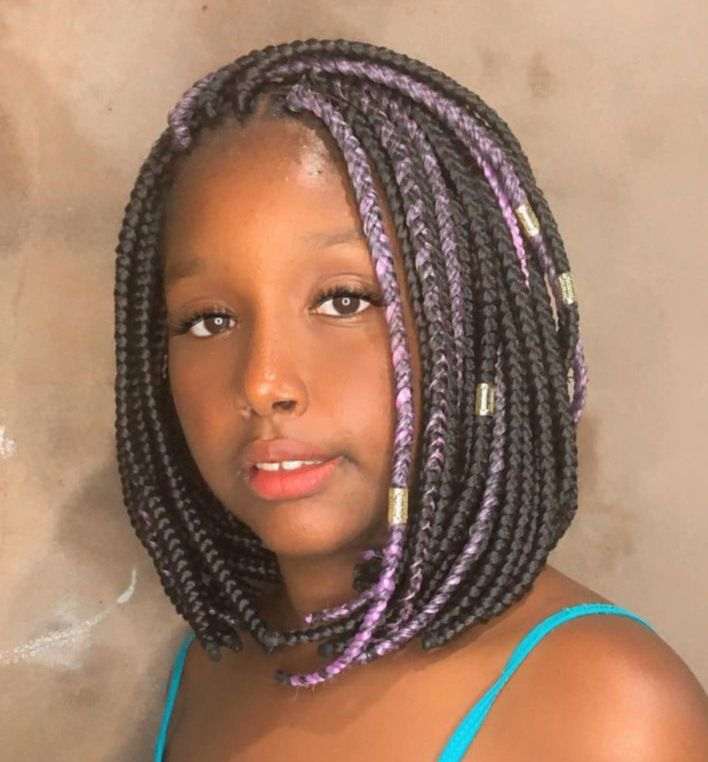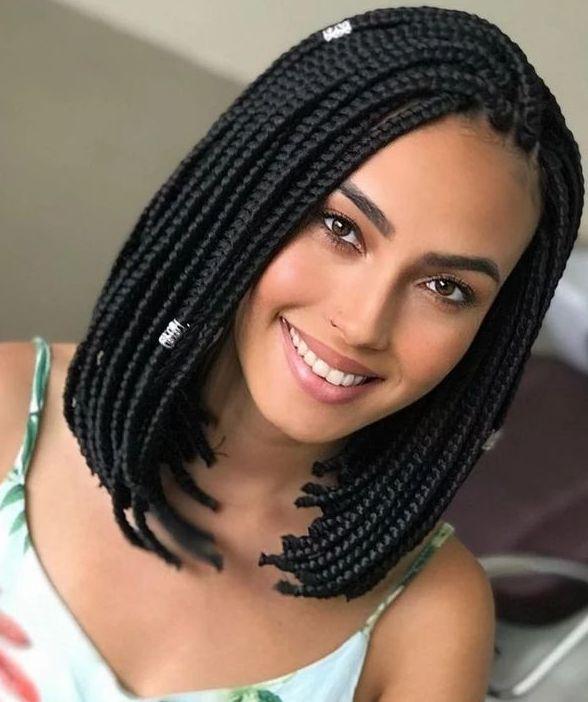 Bob braids styles can either be shoulder length or short. The ends of the braids could either be straight or curled. This hairstyle is simple and beautiful.
9. Ponytail Braids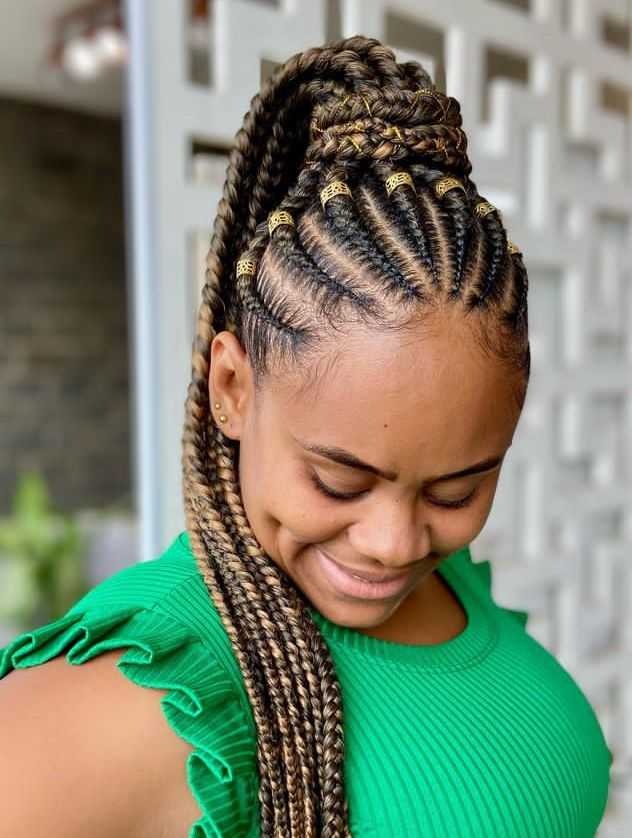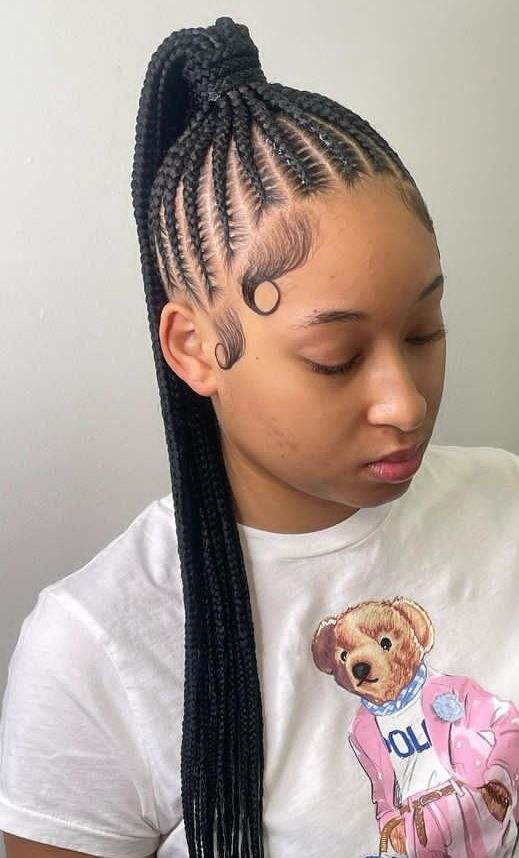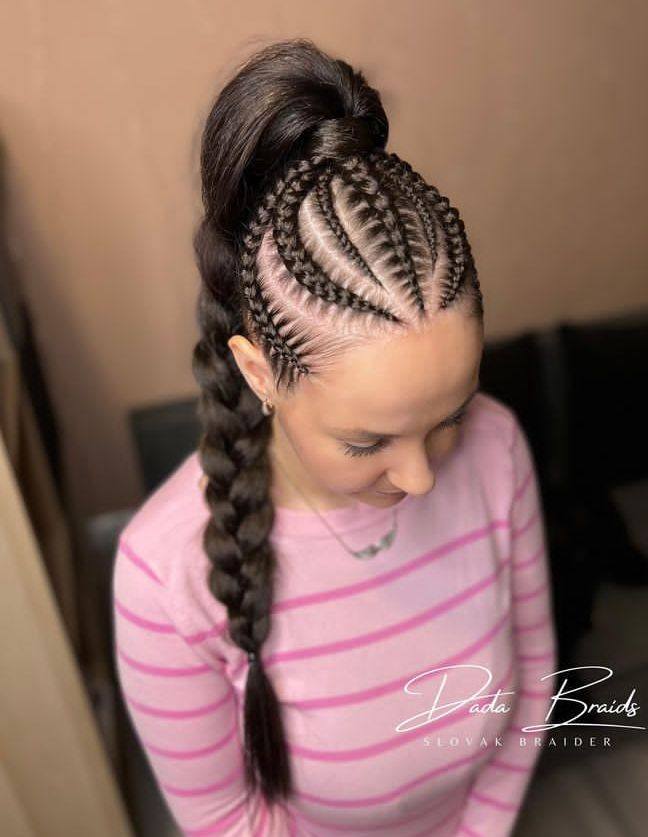 Ponytail braid hairstyles is for the modern ladies. Ponytails usually extends from the centre of the hair. A part of the braids is used to hold the base of the hair. You can equally use fancy headbands to the braids at the center.
10. Braids with side ear braids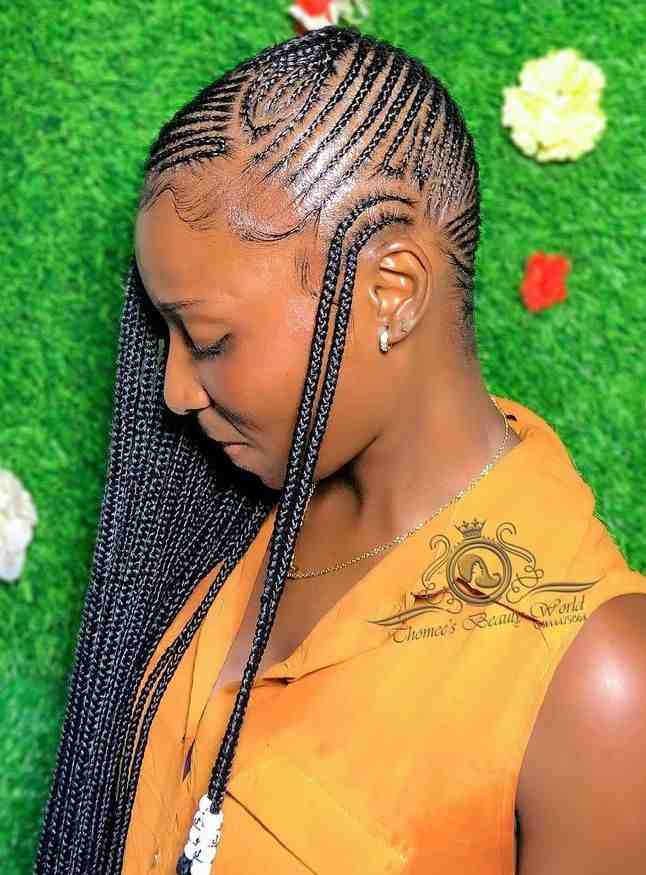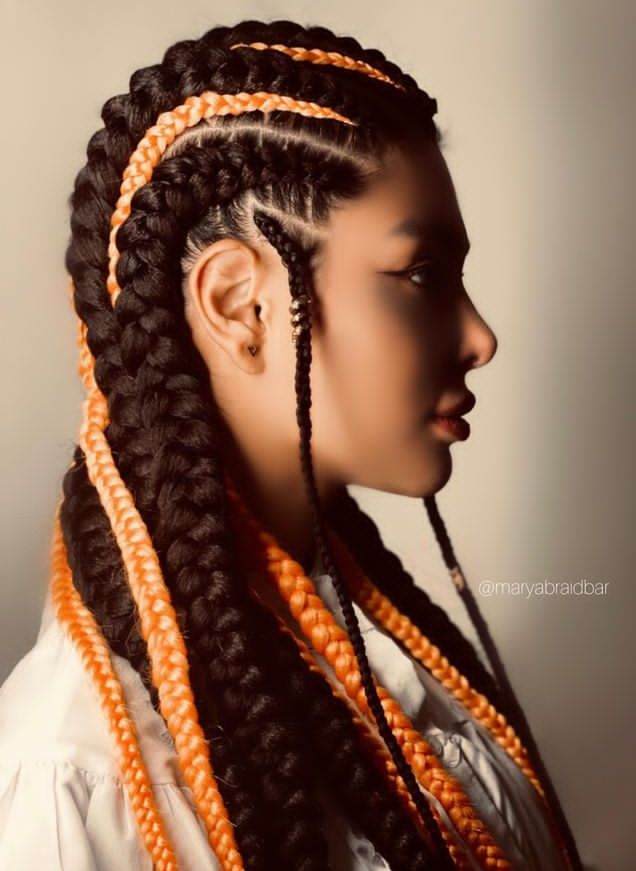 So fashionable. Stand out with these braid styles. It can be achieved on different types of cornrow hairstyle.
11. Braids with Updos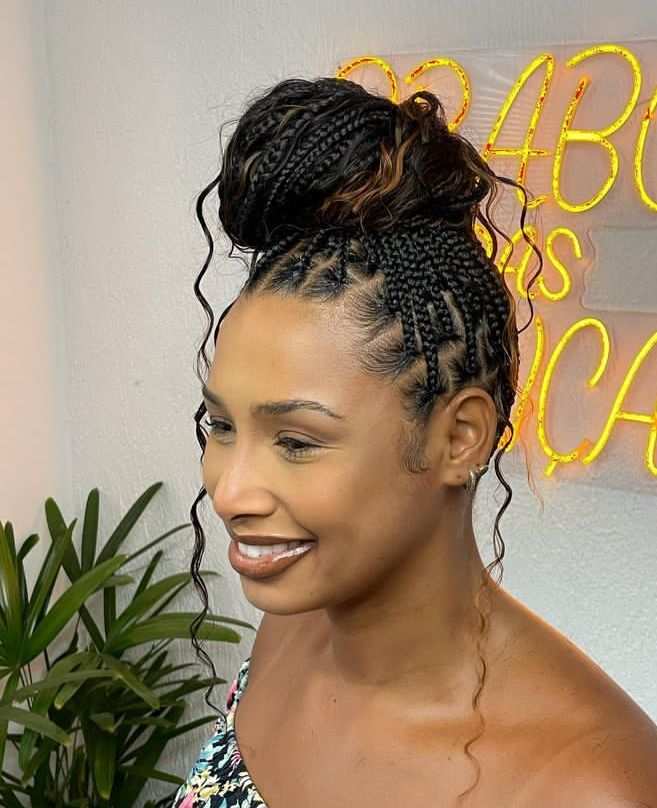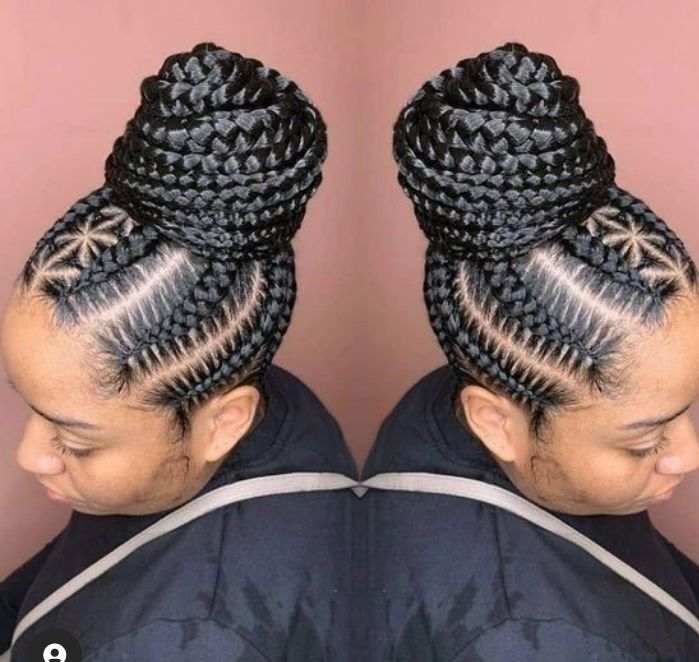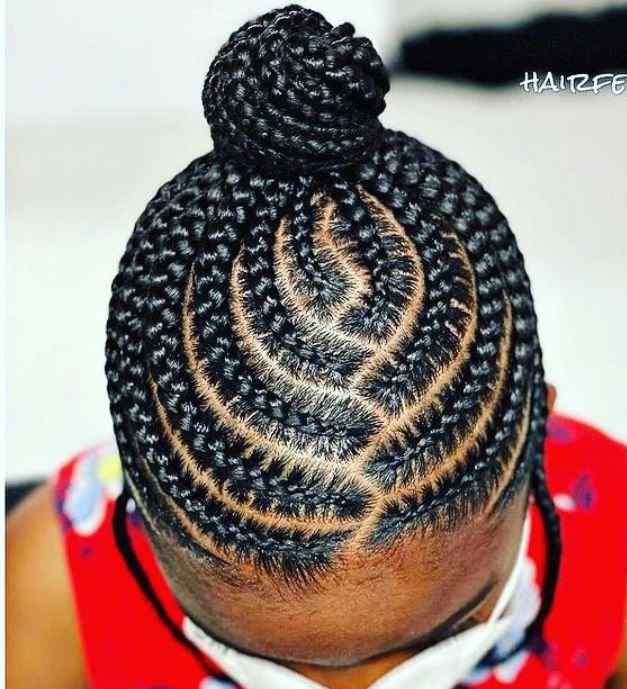 Call it Updos or buns, this is the easiest way of pulling the braids away from your face or body. You can wrap it as a single or double bun. Great hairstyle for hot weather.
12. Half braids, half free flowing curls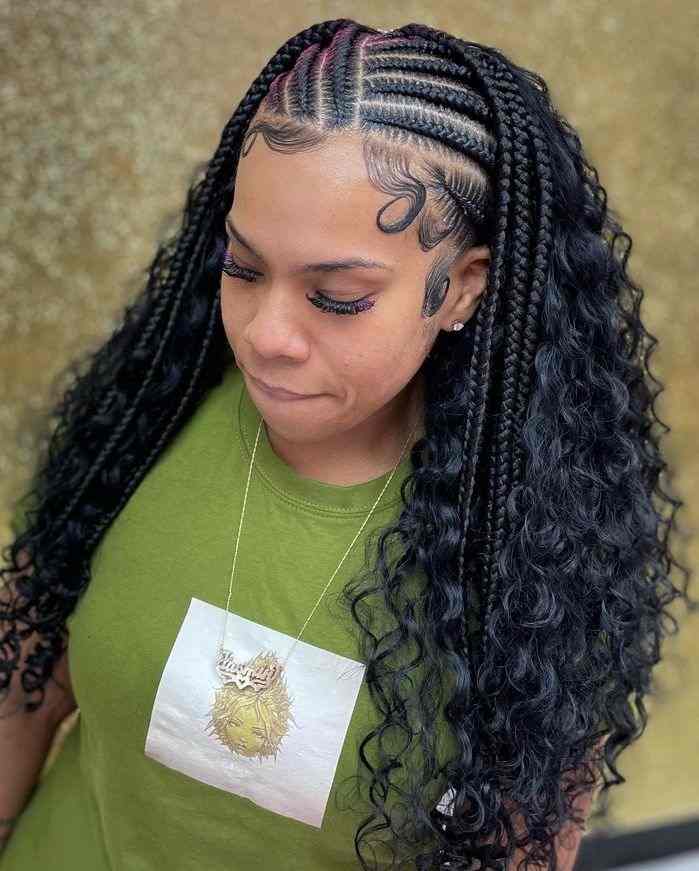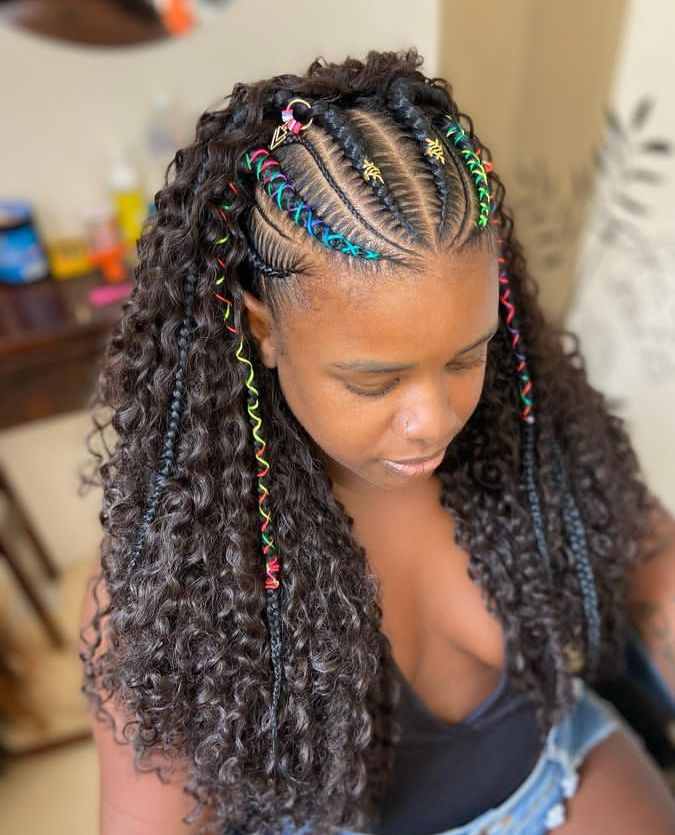 At times, you can decide to have a combination of full flowing curls to your braid style. In this type of hairstyle, the front is braided with the back having an attachment or weavon with full curls.
13. Braids with lower bun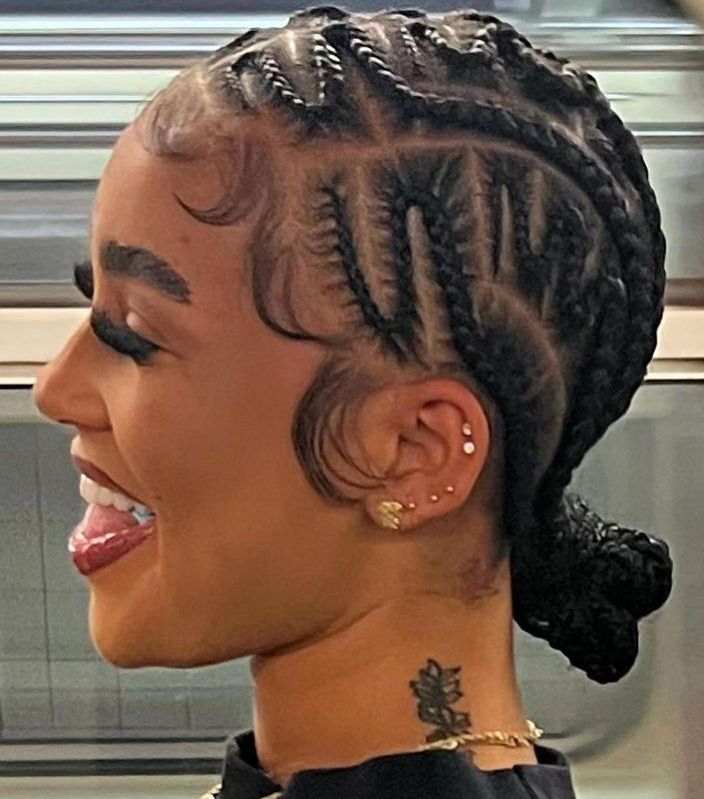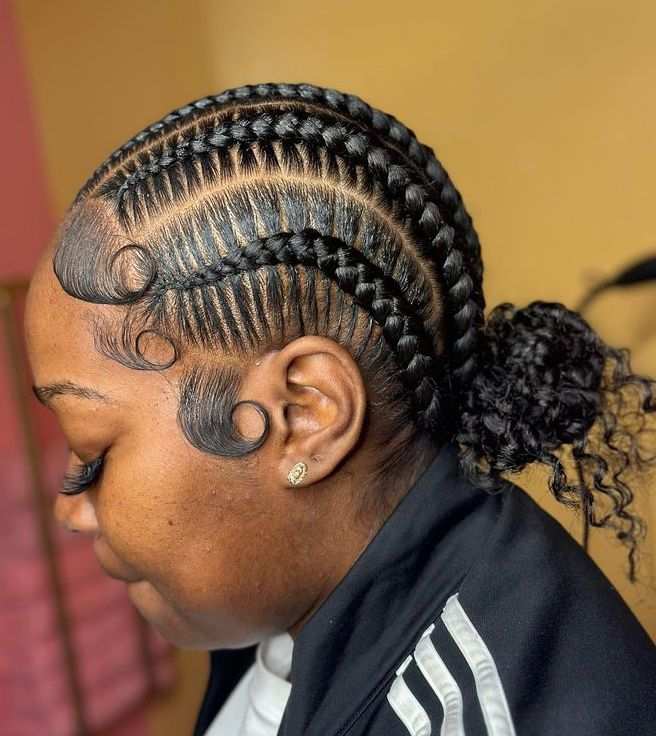 When you have an all back Weaving style either with your natural hair or an extension, this lower bun style is preferable. So simple and easy to achieve.
14. C-curve braid styles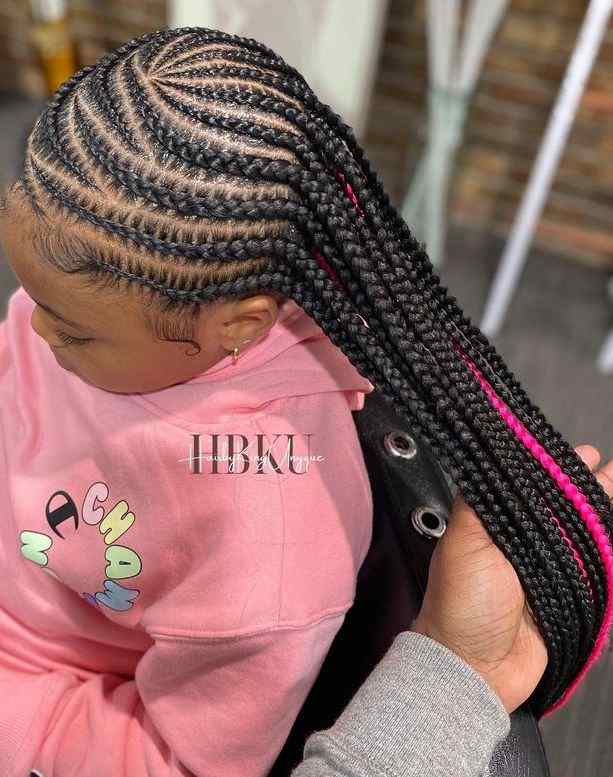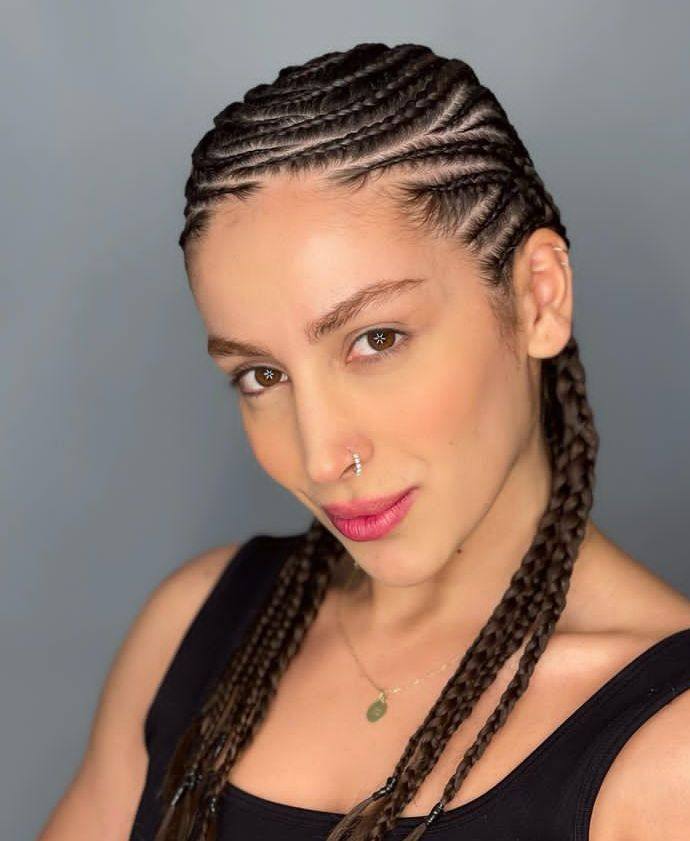 The more complicated, the more beautiful. C-curve hairstyles are for stylish ladies.
15. Braids with Beads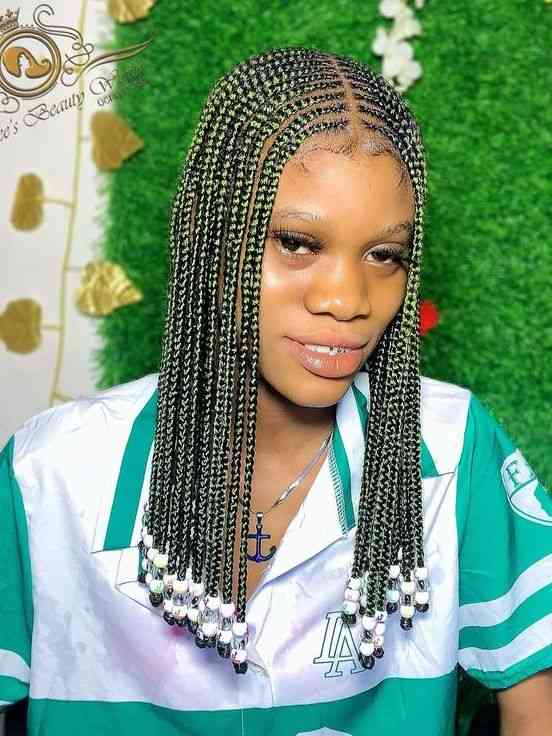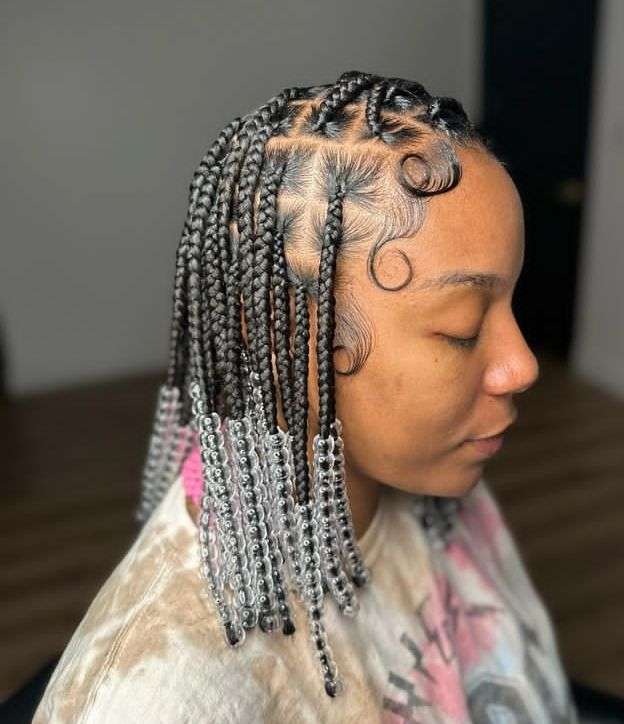 Adding beads to the ends of your braids adds more beauty to it. You can use beads of different sizes and colors too.
16. Simple Twist Hairstyles for Nigerian Ladies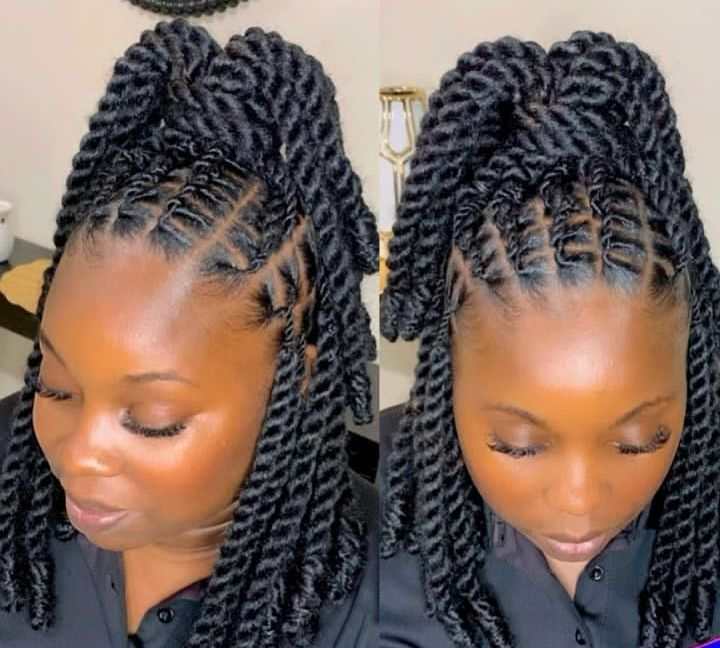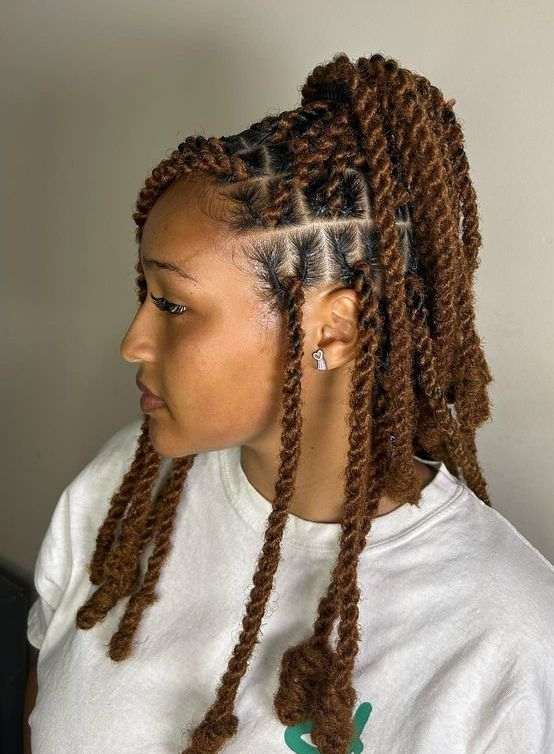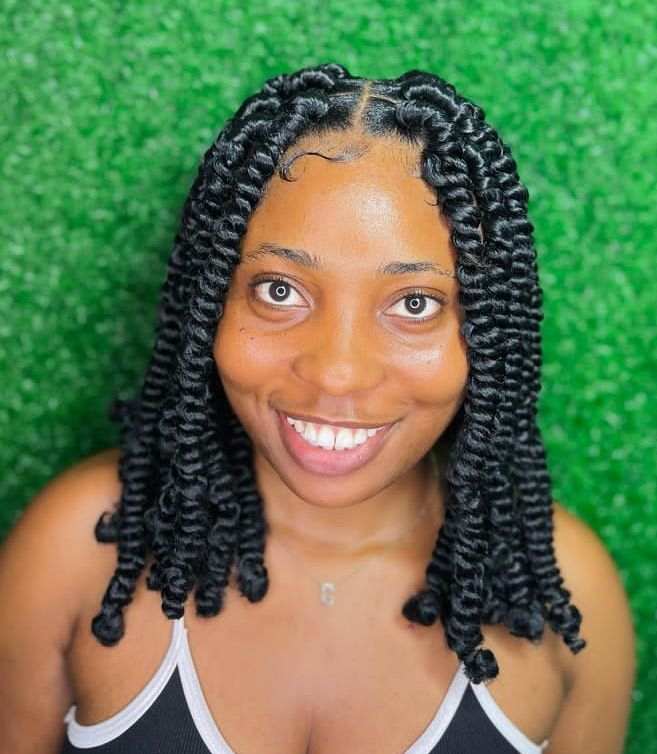 You don't want to have weaves, Cornrows or box braids? Then, try twisted hairstyle. Just like a twisted rooe, this hairstyle is for modern ladies.
17. Afro with Braids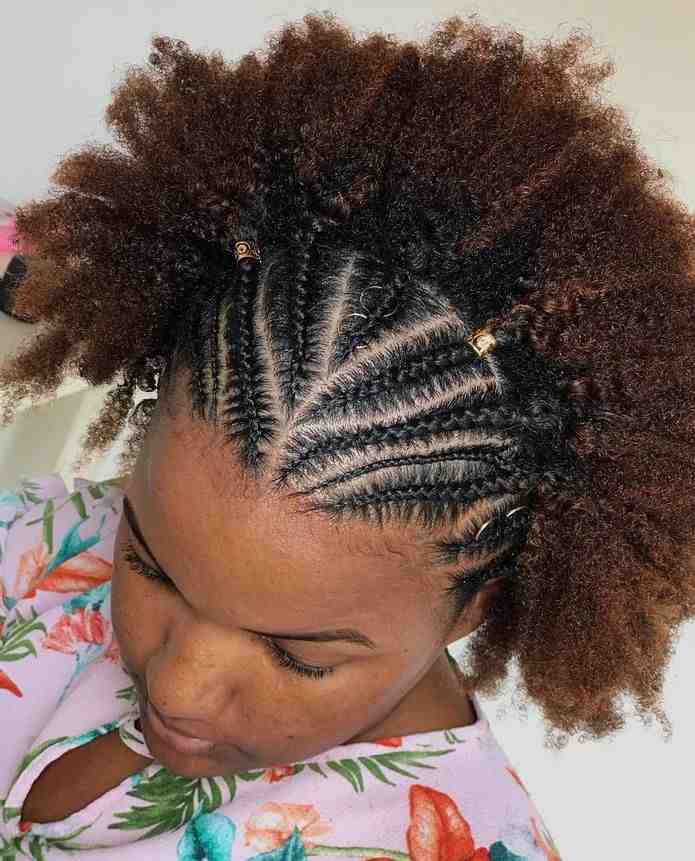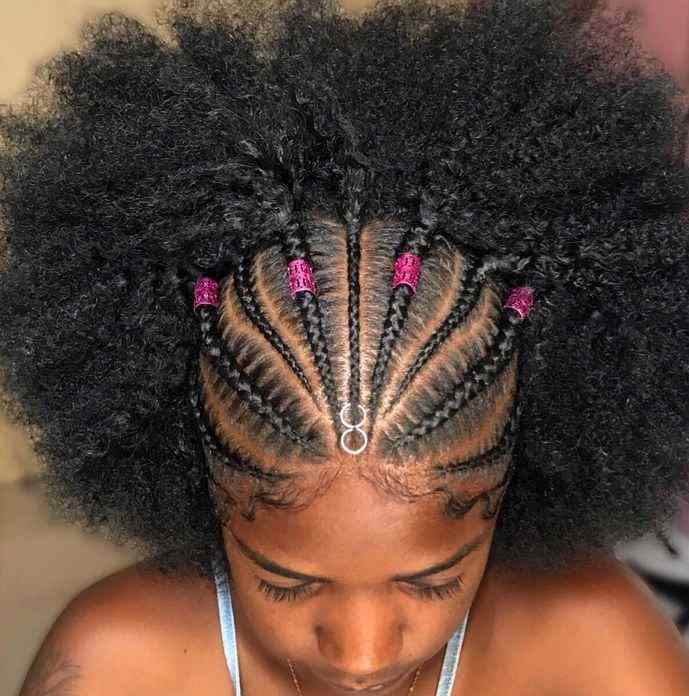 Your Afro hairstyles can be made to look more classy with braids. Have the front part of the hair braided and attach your Afro hair.
18. Colored Braids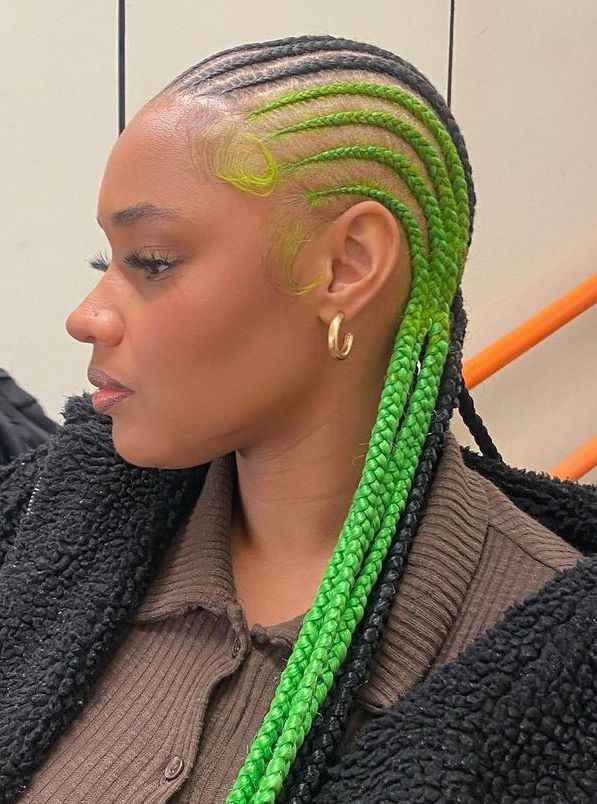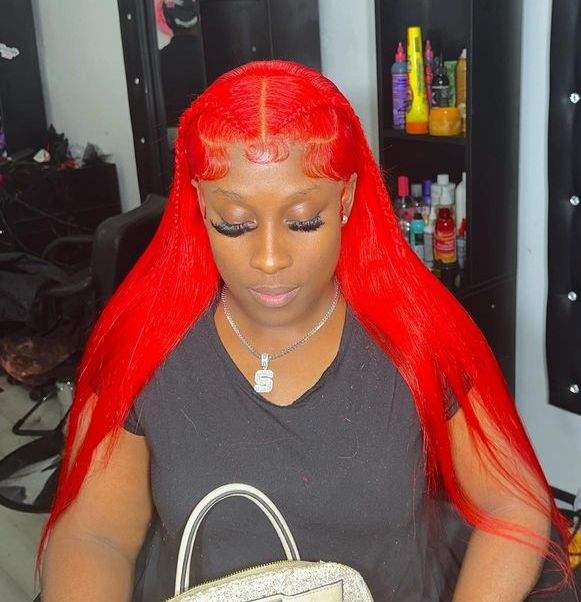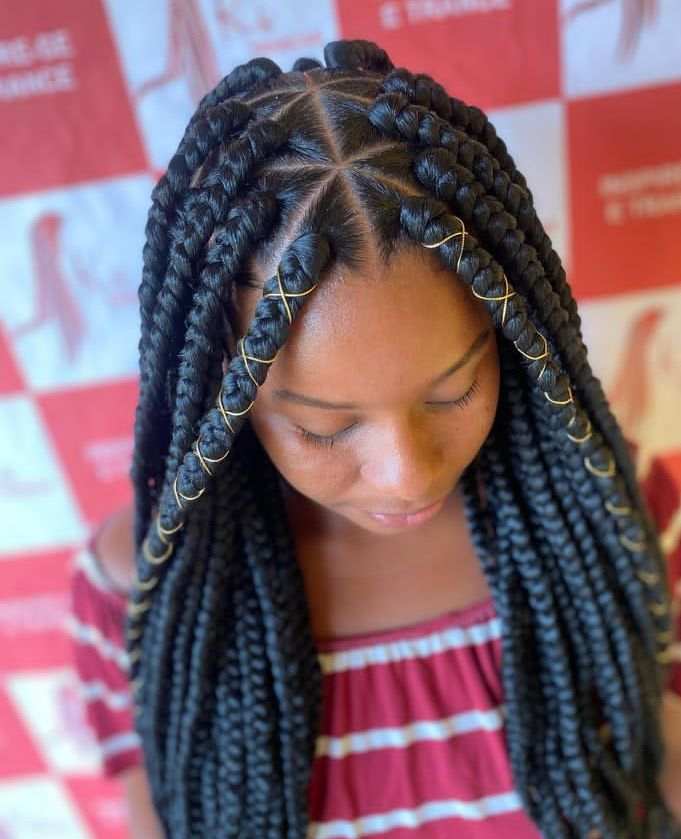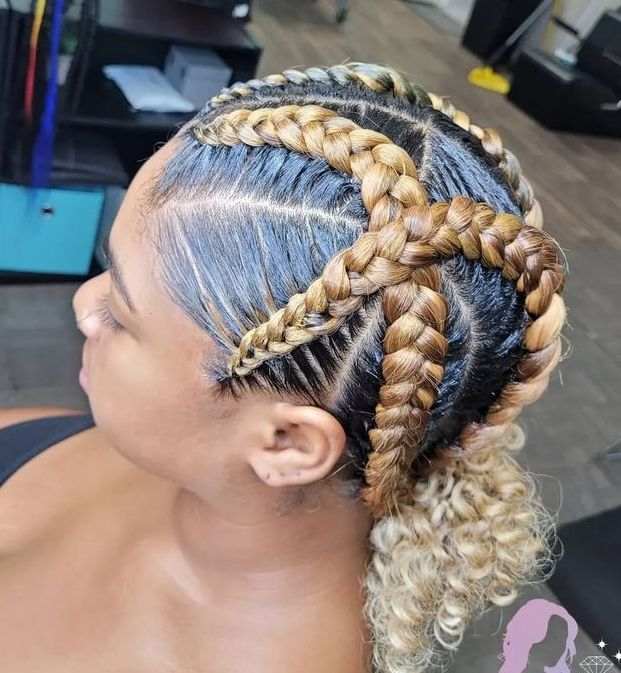 To look more flashy, you can use other bold colors of extensions such as red, blue, green, gold or any other color to make any type of braid style. This makes you to stand out from the crowd.
How do you see our collections of Simple Hairstyles for Ladies in Nigeria? Keep visiting because we will keep you updated!
Also See; 63 African Hair Braiding Styles Pictures
30 Nigerian Natural Hair Weaving Styles without Attachment