Nollywood actress, Mercy Aigbe is celebrating her daughter's birthday as she clocks 20. The gorgeous actress who shares striking resemblance with her daughter, Michelle, pained down a heartfelt birthday message to her. She thanked her for not deviating from the good moral standards that she taught her and urged her to keep the flag flying. It is of no doubt that Michelle is a fashionista just like her Mum.
See her birthday message to her;
Michelle @michellio_as you turn 20 today, I just want to remind you never to forget the daughter of who you are…….Thank you for always making me proud! Thank you for not letting my teachings go to waste! Thank you for always remembering the values, morals I instilled in you! Thank you for always taking dominion, thank you for always remembering that you are more than a conqueror, through Christ that strengthens you, and that you can do all things!
Keep flying high my Princess! Keep breaking boundaries! Keep soaring! Keep winning! Keep taking dominion! Keep moving child because your mother doesn't sleep! You are a child of a praying mother! A mother who stands upon the covenant of Jehovah!
May the Lord continue to be in front to lead you, beside you to guide you and behind you to protect you!
Happy 20th birthday daughter of mercy@michellio_❤❤❤

See her Birthday Pictures;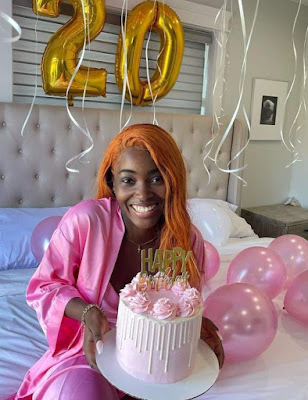 See more of her photos;