Many people have done things in the past which if the hands of the clock can be reversed, they would have changed such, but the truth is that the can't, then, the question is, Is it advisable to judge them based on such past?
Hear what Toyin Abraham have to say about this!
"Everybody has a past, some more intense than others.
Stop using their past to judge them. Everyone has done something they are not proud of . So when people want to change, support them and help them grow. Stop judging."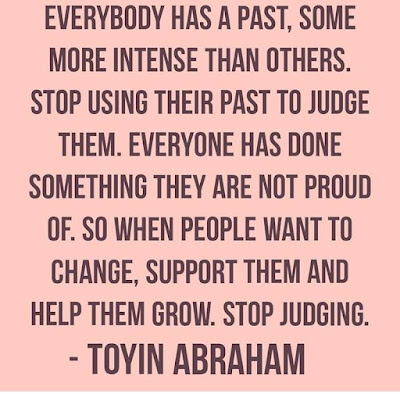 Well, recall that Toyin Abraham is a popular Nollywood actress who was initially married to her estranged husband, Adeniyi Johnson not until the divorced and went their separate ways. In the year 2019,Toyin found love again in the person of Kolawole Ajeyemi of which they were blessed with a son. Recently, a source claimed that Toyin was spotted in Ikoyi Registry which may be interpreted that she has gone for her second court wedding there and it also happens that her first court wedding equally took place there. So know one could actually interpret while Toyin took out time to dish out this advice.