Recently, a heavily pregnant lady identified as Sandra Iheuwa made it known to the public that Ubi Franklin, talent manager is responsible for her pregnancy.

She not only accused Ubi Franklin of being responsible for her pregnancy, also she made it known that Ubi Franklin is owing her some sum of money, which we realised that Ubi later paid.

Since the announcement of her pregnancy, Ubi has not openly admitted to be responsible for it. The lady who since then continued to be strong and active on her social media handles, today made it known that she has given birth to a baby girl and also drops a heartwarming message for her child.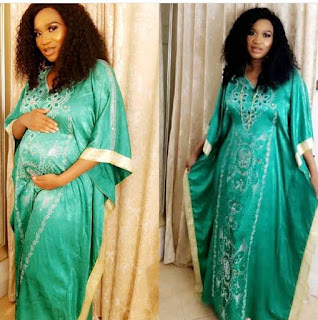 See her message;

"Welcome to the world my baby A.C Iheuwa. You are finally here and I can't contain my excitement holding you in my arms with tears of joy. You fought to be here after all the complications and manipulations but you won. When my pregnancy was made public, you got denied and rejected by the man who is supposed to protect and love you regardless of how you came about seems like his public image was more important but don't worry baby you got me and the whole Iheuwa clan especially your grandpa and uncles. You will be a blessing beyond our expectations as long as you live you will not suffer or lack anything you will get the best life and education. I have a lot to tell you my baby but I'm going to wait till you are able to read and write. Because I know you are going to read this and a whole lot on the internet. I love you so much and thank you for choosing me to be your mom. Happy birthday Baby A.