If you know Nollywood actress ,Annie Idibia, the wife of popular Nigerian musician, Tuface Idibia, then you may have noticed one striking quality about her, that is, her forever young looking.

Annie Idibia, who is a mother of two and also in her mid thirties does not in any way look closer to her age.

According to her, she has been asked severally by people who wants to know where the secret to her ageless look lies.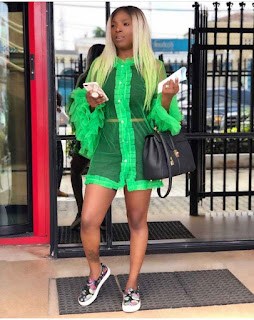 Without mincing words, she shared the simple tips to them, responding read what she said;

"I mind only my business and my business alone".

" I don't surround myself with people who drain me out emotionally or verbally (in fact i' m mostly alone lately)"

"I respect people, I don't talk behind back (anymore)"

"Learning to forgive which is my greatest challenge as a Scorpio human."

"I love and love deep, even if I have to do it far away."

" I don't ever, I repeat ever envy anyone! Never!"
"And yes, I'm content with my life! But strive to be greater, bigger and wiser everyday!"
See her post;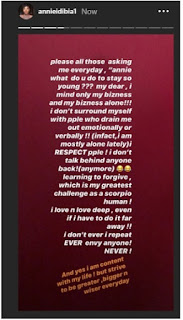 Annie Idibia's advice on how to stay young looking is really good and I hope many will learn from this.